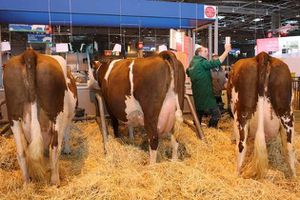 Persifflage et caquetage sont les deux mamelles de la France spirituelle (elles n'ont pourtant pas de stand au Salon de l'Agriculture qui s'ouvre aujourd'hui à Paris), et j'en veux pour preuve la minceur des femmes françaises qui résiste plus ou moins aux attaques incessantes du gras le plus merveilleux combiné aux sucres les plus exquis. Mais la gentillesse et l'indulgence, encore une mode qui nous vient d'Amérique, guette notre tour de taille, tandis que la résistance s'organise dans les cercles fermés de nos provinces et les rues plus anonymes de la capitale: 't'as vu la grosse?" est toujours entendu, mais maintenant il faut prêter l'oreille. Et le délicieux "t'es mannequin chez Olida?" me semble passé de mode, à moins que cette marque de charcuterie industrielle, fameuse dans ma jeunesse, ait perdu son lustre, ou même sa vie? Rendons la parole aux langues de vipère qui peuplent l'univers de Proust, et qui ornent nos "DINEZ AVEC PROUST" (prochain 'A table à Combray" le jeudi 10 mars et le mercredi 23 mars au café de la Mairie, avec plus de caquetages que de persifflages) !
– Mais voyons, Basin, vous savez bien de qui ma tante veut parler, s'écria la duchesse avec indignation, c'est le frère de cette énorme herbivore que vous avez eu l'étrange idée d'envoyer venir me voir l'autre jour. Elle est restée une heure, j'ai pensé que je deviendrais folle. Mais j'ai commencé par croire que c'était elle qui l'était en voyant entrer chez moi une personne que je ne connaissais pas et qui avait l'air d'une vache.
– Écoutez, Oriane, elle m'avait demandé votre jour ; je ne pouvais pourtant pas lui faire une grossièreté, et puis, voyons, vous exagérez, elle n'a pas l'air d'une vache, ajouta-t-il d'un air plaintif, mais non sans jeter à la dérobée un regard souriant sur l'assistance.
Il savait que la verve de sa femme avait besoin d'être stimulée par la contradiction, la contradiction du bon sens qui proteste que, par exemple, on ne peut pas prendre une femme pour une vache (c'est ainsi que Mme de Guermantes, enchérissant sur une première image, était souvent arrivée à produire ses plus jolis mots). Et le duc se présentait naïvement pour l'aider, sans en avoir l'air, à réussir son tour, comme, dans un wagon, le compère inavoué d'un joueur de bonneteau.
– Je reconnais qu'elle n'a pas l'air d'une vache, car elle a l'air de plusieurs, s'écria Mme de Guermantes. Je vous jure que j'étais bien embarrassée voyant ce troupeau de vaches qui entrait en chapeau dans mon salon et qui me demandait comment j'allais. D'un côté j'avais envie de lui répondre : « Mais, troupeau de vaches, tu confonds, tu ne peux pas être en relations avec moi puisque tu es un troupeau de vaches », et d'autre part, ayant cherché dans ma mémoire, j'ai fini par croire que votre Cambremer était l'infante Dorothée qui avait dit qu'elle viendrait une fois et qui est assez bovine aussi, de sorte que j'ai failli dire Votre Altesse royale et parler à la troisième personne à un troupeau de vaches. LE COTE DE GUERMANTES
Mockery and gossip are witty France's two udders, (although there is no booth representing them at the Salon de l'Agriculture opening today in Paris), and it is evidenced by French women ' slender bodies that resist more or less to the relentless assaults of the most wonderful fat combined with the most exquisite sugars. But nice indulgent manners, a fad coming from America, are a threat for our waist line, while some resistance is organizing in the provinces' closed circles and more anonymous streets of the capitale. "eh fatty!" may still be heard, but you have to lend an ear. And the delicious: "Are you a model? Working for Olida ?" ( a famous charcuterie brand of my youth) has fallen out of fashion. So, let's restore speech to vipers who populate Proust's world, and who ornate our "DINEZ AVEC PROUST" (next one: 'A table à Combray" Thursday March 10, and Wednesday March 23 at the café de la Mairie, with more gossips than mockery) !
"Why, Basin, you know quite well who' my aunt means," cried the Duchess indignantly. "He's the brother of that great graminivorous creature you had the weird idea of sending to call on me the other day. She stayed a solid hour; I thought I should go mad. But I began by thinking it was she who was mad when I saw a person I didn't know come browsing into the room looking exactly like a cow."
"Listen, Oriane; she asked me what afternoon you were at home; I couldn't very well be rude to her; and besides, you do exaggerate so, she's not in the least like a cow," he added in a plaintive tone, though not without a quick smiling glance at the audience.
He knew that his wife's lively wit needed the stimulus of contradiction, the contradiction of common sense which protests that one cannot (for instance) mistake a woman seriously for a cow; by this process Mme. de Guermantes, enlarging upon her original idea, had been inspired to produce many of her most brilliant sayings. And the Duke in his innocent fashion helped her, without seeming to do so, to bring off her effects like, in a railway carriage, the unacknowledged partner of the three-card player.
"I admit she doesn't look like a cow, she looks like a dozen," exclaimed Mme. de Guermantes. "I assure you, I didn't know what to do when I saw a herd of cattle come marching into my drawing-room in a hat and heard them ask me how I was. I had half a mind to say: 'Please, herd of cattle, you must be making a mistake, you can't possibly know me, because you're a herd of cattle,' but after racking my brains over her I came to the conclusion that your Cambremer woman must be the Infanta Dorothea who had said she was coming to see me one day, and is rather bovine also, so that I was just on the point of saying: 'Your Royal Highness' and using the third person to a herd of cattle. The Guermantes Way