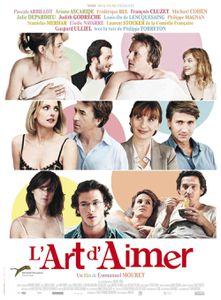 Hier soir sur Arte, charmant film d'Emmanuel Mouret: L'art d'aimer. Parmi différentes histoires, l'apologie de l'amour dans le noir, tout à fait réussie, et je pense à Jules, Jules, mais aussi à Charlus et ces "Pompéiens" dans les abris souterrains pendant les attaques allemandes de Paris, en 1916.
Or l'obscurité qui baigne toute chose comme un élément nouveau a pour effet, irrésistiblement tentateur pour certaines personnes, de supprimer le premier stade du plaisir et de nous faire entrer de plain pied dans un domaine de caresses où l'on n'accède d'habitude qu'après quelque temps ! Que l'objet convoité soit, en effet, une femme ou un homme, même à supposer que l'abord soit simple, et inutiles les marivaudages qui s'éterniseraient dans un salon, du moins en plein jour, le soir même, dans une rue, si faiblement éclairée qu'elle soit, il y a du moins un préambule où les yeux seuls mangent le blé en herbe, où la crainte des passants, de l'être recherché lui-même, empêchent de faire plus que de regarder, de parler. Dans l'obscurité tout ce vieux jeu se trouve aboli, les mains, les lèvres, les corps peuvent entrer en jeu les premiers. Il reste l'excuse de l'obscurité même et des erreurs qu'elle engendre si l'on est mal reçu. Si on l'est bien, cette réponse immédiate du corps qui ne se retire pas, qui se rapproche, nous donne de celle ou celui à qui nous nous adressons silencieusement une idée qu'elle est sans préjugés, pleine de vice, idée qui ajoute un surcroît au bonheur d'avoir pu mordre à même le fruit sans le convoiter des yeux et sans demander de permission. Le Temps retrouvé
Last night I watched a movie on tv: "L'art d'aimer", in which, among various love stories, a couple discover love in the dark. Immediately I thought first of Jules, and of Charlus and all the "Pompeïans" during German attacks and bombing of Paris in 1916, in subways' shelters.
And the darkness which bathes everything as in a new element had the effect, an irresistibly tempting one for certain people, of eliminating the first phase of lust and enabling them to enter, without further ado the domain of caresses which as a rule, demands preliminaries. Whether the libidinous aim is directed towards a woman or a man, assuming that approach is easy and that the sentimentalities that go on eternally in a drawing-room in the day time can be dispensed with, even in the evening however ill-lit the street, there must, at least, be a preamble when only the eyes can devour the corn within the ear, when the fear of passers-by or even of the one pursued prevents the follower getting further than vision and speech. But in darkness the whole bag of tricks goes by the board, hands, lips, bodies, come into immediate play. Then there is the excuse of the darkness itself and of the mistakes it engenders if a bad reception is met with, but if on the contrary, there is the immediate response of a body which, instead of withdrawing, comes closer, the inference that the woman or the man approached is equally licentious and vicious, adds the additional thrill of being able to bite into the fruit without lusting after it with the eyes and without asking permission. Time Regained