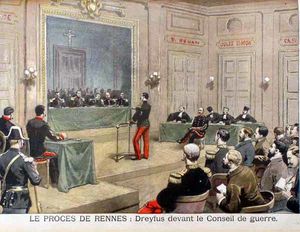 On navigue au radar et comme la gauche au pouvoir est forcée de libéraliser l'économie, elle fait semblant de trouver ça normal... Y a que les imbéciles qui ne changent pas d'opinion.
Il se produisit à cette époque un phénomène qui ne mérite d'être mentionné que parce qu'il se retrouve à toutes les périodes importantes de l'histoire. Au moment même où j'écrivais à Gilberte, M. de Guermantes, à peine rentré de la redoute, encore coiffé de son casque, songeait que le lendemain il serait bien forcé d'être officiellement en deuil, et décida d'avancer de huit jours la cure d'eaux qu'il devait faire. Quand il en revint trois semaines après (et pour anticiper, puisque je viens seulement de finir ma lettre à Gilberte), les amis du duc qui l'avaient vu, si indifférent au début, devenir un antidreyfusard forcené, restèrent muets de surprise en l'entendant (comme si la cure n'avait pas agi seulement sur la vessie) leur répondre : « Hé bien, le procès sera révisé et il sera acquitté ; on ne peut pas condamner un homme contre lequel il n'y a rien. Avez-vous jamais vu un gaga comme Froberville ? Un officier préparant les Français à la boucherie, pour dire la guerre ! Étrange époque ! » Or, dans l'intervalle, le duc de Guermantes avait connu aux eaux trois charmantes dames (une princesse italienne et ses deux belles-soeurs). En les entendant dire quelques mots sur les livres qu'elles lisaient, sur une pièce qu'on jouait au Casino, le duc avait tout de suite compris qu'il avait affaire à des femmes d'une intellectualité supérieure et avec lesquelles, comme il le disait, il n'était pas de force. Il n'en avait été que plus heureux d'être invité à jouer au bridge par la princesse. Mais à peine arrivé chez elle, comme il lui disait, dans la ferveur de son antidreyfusisme sans nuances : « Hé bien, on ne nous parle plus de la révision du fameux Dreyfus », sa stupéfaction avait été grande d'entendre la princesse et ses belles-soeurs dire : « On n'en a jamais été si près. On ne peut pas retenir au bagne quelqu'un qui n'a rien fait. – Ah ? Ah ? », avait d'abord balbutié le duc, comme à la découverte d'un sobriquet bizarre qui eût été en usage dans cette maison pour tourner en ridicule quelqu'un qu'il avait cru jusque-là intelligent. Mais au bout de quelques jours, comme, par lâcheté et esprit d'imitation, on crie : « Eh ! là, Jojotte », sans savoir pourquoi, à un grand artiste qu'on entend appeler ainsi, dans cette maison, le duc, encore tout gêné par la coutume nouvelle, disait cependant : « En effet, s'il n'y a rien contre lui ! » Les trois charmantes dames trouvaient qu'il n'allait pas assez vite et le rudoyaient un peu : « Mais, au fond, personne d'intelligent n'a pu croire qu'il y eût rien. » Chaque fois qu'un fait « écrasant » contre Dreyfus se produisait et que le duc, croyant que cela allait convertir les trois dames charmantes, venait le leur annoncer, elles riaient beaucoup et n'avaient pas de peine, avec une grande finesse de dialectique, à lui montrer que l'argument était sans valeur et tout à fait ridicule. Le duc était rentré à Paris dreyfusard enragé. Et certes nous ne prétendons pas que les trois dames charmantes ne fussent pas, dans ce cas-là, messagères de vérité. Mais il est à remarquer que tous les dix ans, quand on a laissé un homme rempli d'une conviction véritable, il arrive qu'un couple intelligent, ou une seule dame charmante, entrent dans sa société et qu'au bout de quelques mois on l'amène à des opinions contraires. Et sur ce point il y a beaucoup de pays qui se comportent comme l'homme sincère, beaucoup de pays qu'on a laissés remplis de haine pour un peuple et qui, six mois après, ont changé de sentiment et renversé leurs alliances. Sodome et Gomorrhe I
The socialist government has to free the economy, and pretend that they are free marketers. In fact only imbeciles don't change their mind...
There appeared about this time a phenomenon which deserves mention only because it recurs in every important period of history. At the same moment when I was writing to Gilberte, M. de Guermantes, just home from his ball, still wearing his helmet, was thinking that next day he would be compelled to go into formal mourning, and decided to proceed a week earlier to the cure that he had been ordered to take. When he returned from it three weeks later (to anticipate for a moment, since I am still finishing my letter to Gilberte), those friends of the Duke who had seen him, so indifferent at the start, turn into a raving anti-Dreyfusard, were left speechless with amazement when they heard him (as though the action of the cure had not been confined to his bladder) answer: "Oh, well, there'll be a fresh trial and he'll be acquitted; you can't sentence a fellow without any evidence against him. Did you ever see anyone so gaga as Forcheville? An officer, leading the French people to the shambles, heading straight for war. Strange times we live in." The fact was that, in the interval, the Duke had met, at the spa, three charming ladies (an Italian princess and her two sisters-in-law). After hearing them make a few remarks about the books they were reading, a play that was being given at the Casino, the Duke had at once understood that he was dealing with women of superior intellect, by whom, as he expressed it, he would be knocked out in the first round. He was all the more delighted to be asked to play bridge by the Princess. But, the moment he entered her sitting room, as he began, in the fervour of his double-dyed anti-Dreyfusism: "Well, we don't hear very much more of the famous Dreyfus and his appeal," his stupefaction had been great when he heard the Princess and her sisters-in-law say: "It's becoming more certain every day. They can't keep a man in prison who has done nothing." "Eh? Eh?" the Duke had gasped at first, as at the discovery of a fantastic nickname employed in this household to turn to ridicule a person whom he had always regarded as intelligent. But, after a few days, as, from cowardice and the spirit of imitation, we shout 'Hallo, Jojotte' without knowing why at a great artist whom we hear so addressed by the rest of the household, the Duke, still greatly embarrassed by the novelty of this attitude, began nevertheless to say: "After all, if there is no evidence against him." The three charming ladies decided that he was not progressing rapidly enough and began to bully him: "But really, nobody with a grain of intelligence can ever have believed for a moment that there was anything." Whenever any revelation came out that was 'damning' to Dreyfus, and the Duke, supposing that now he was going to convert the three charming ladies, came to inform them of it, they burst out laughing and had no difficulty in proving to him, with great dialectic subtlety, that his argument was worthless and quite absurd. The Duke had returned to Paris a frantic Dreyfusard. And certainly we do not suggest that the three charming ladies were not, in this instance, messengers of truth. But it is to be observed that, every ten years or so, when we have left a man filled with a genuine conviction, it so happens that an intelligent couple, or simply a charming lady, come in touch with him and after a few months he is won over to the opposite camp. And in this respect there are plenty of countries that behave like the sincere man, plenty of countries which we have left full of hatred for another race, and which, six months later, have changed their attitude and broken off all their alliances. Cities of the Plain I