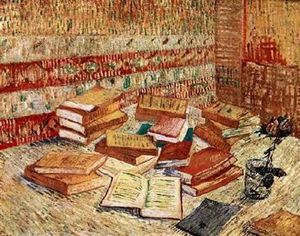 Quand j'étais enfant, il m'arrivait souvent d'aller en classe mal préparée, il me manquait un compas, un cahier, une gomme, que sais-je ? et quand un jour une sentence tomba, prononcée par ma maîtresse adorée: « les mauvais ouvriers ont toujours de mauvais outils », je maudis le désordre, l'esprit bohème et totalement inorganisé de ma mère qui n'avait pas vérifié mon "cahier de texte", ni la teneur de mon cartable. Et comme les fautes des parents se conjuguent chez les enfants, à chaque fois que mon désordre, que je considère comme créateur, atteint des proportions ingérables, je repense à mon éducation décontractée.
Et, très indulgente avec moi-même plus qu'avec ma mère, je me console en me disant que l'esprit artiste, porté aux nues plus que l'esprit artisan, n'est pas affaire d'outil, mais de vision. Chacun s'évertue à excuser ses défauts !

car le style, pour l'écrivain aussi bien que pour le peintre, est une question non de technique, mais de vision. Le Temps retrouvé
When I was a child, I used to go often to school badly prepared, I was missing a ruler, a notebook, an eraser, what do I know? and when one day I received the sentence from my adored teacher: "A bad workman blames his tools." I cursed the mess, the bohemian spirit, the total lack of organisation of my mother who never checked my schedule nor my schoolbag. And as parents' faults are conjugated by their children, each time my mess, that I consider creative, becomes unmanageable, I think of my relaxed education.
And more forgiving for me than for my mother, I console myself in thinking that to have an artistic mind, much more encensed than a craftsman mind, is not a question of tool but of vision. Everybody takes pride in excusing their own flaws.

for a writer's style and also a painter's are matters not of technique but of vision. Time Regained