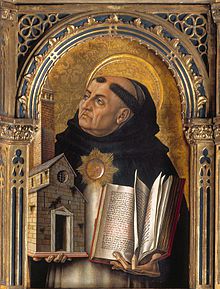 Jules penche vers Thomas d'Aquin pour qui l'intelligence serait essentiellement propre à chaque individu.
Je penche pour Averroès, pour qui la faculté de penser chez l'homme ne serait pas en soi personnelle.
On a tous les deux raison, mais je remarque cependant que ce sont ceux qui ont plus (Jules) d'intelligence que d'autres (moi) qui ont tendance à voir le caractère unique de leur don, tandis que les plus mal lotis en la matière aiment bien s'accrocher aux wagons des plus doués.
Car mon intelligence devait être une, et peut-être même n'en existe-t-il qu'une seule dont tout le monde est co-locataire, une intelligence sur laquelle chacun, du fond de son corps particulier, porte ses regards, comme au théâtre, où si chacun a sa place, en revanche, il n'y a qu'une seule scène. A l'ombre des jeunes filles en fleurs
Jules leans towards Thomas Aquinas for whom intelligence would be essentially personal.
I lean towards Averroes for whom human intellect would be a faculty shared by the whole humanity.
We are both right but I cannot help noticing that the more intelligent (Jules) tend to see the uniqueness of their gift, while the less loaded (I) in that regard like to hang on the more gifted ones.
For my intelligence must be a uniform thing, perhaps indeed there exists but a single intelligence, in which everyone in the world participates, towards which each of us from the position of his own separate body turns his eyes, as in a theatre where, if everyone has his own separate seat, there is on the other hand but a single stage. Within a Budding Grove