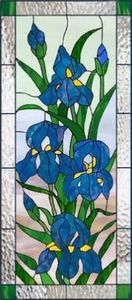 Durant la dernière présentation des 3 missi dominici à Neuilly, Jérôme a cité le texte qui lui a fait découvrir Proust, au baccalauréat (il avait eu une mauvaise note), l'avait bouleversé malgré son jeune âge, l'envoyant se plonger dans la recherche tout entière. J'ai cherché et retrouvé cet extrait que je dédie à tous ceux qui ont sué au sens propre du terme durant cette soirée ainsi que durant les colloques et séminaires proustiens qui, malin plaisir du hasard, se sont déroulés au plus chaud de la canicule, cependant avec grand succès, signe que Proust attire les foules par tous les temps.
Que le jour est lent à mourir par ces soirs démesurés de l'été ! Un pâle fantôme de la maison d'en face continuait indéfiniment à aquareller sur le ciel sa blancheur persistante. Enfin il faisait nuit dans l'appartement, je me cognais aux meubles de l'antichambre, mais dans la porte de l'escalier, au milieu du noir que je croyais total, la partie vitrée était translucide et bleue, d'un bleu de fleur, d'un bleu d'aile d'insecte, d'un bleu qui m'eût semblé beau si je n'avais senti qu'il était un dernier reflet, coupant comme un acier, un coup suprême que dans sa cruauté infatigable me portait encore le jour. L'obscurité complète finissait pourtant par venir, mais alors il suffisait d'une étoile vue à côté de l'arbre de la cour pour me rappeler nos départs en voiture, après le dîner, pour les bois de Chantepie, tapissés par le clair de lune. Et même dans les rues, il m'arrivait d'isoler sur le dos d'un banc, de recueillir la pureté naturelle d'un rayon de lune au milieu des lumières artificielles de Paris – de Paris sur lequel il faisait régner, en faisant rentrer un instant, pour mon imagination, la ville dans la nature, avec le silence infini des champs évoqués le souvenir douloureux des promenades que j'y avais faites avec Albertine. Ah ! quand la nuit finirait-elle ? Mais à la première fraîcheur de l'aube je frissonnais, car celle-ci avait ramené en moi la douceur de cet été où, de Balbec à Incarville, d'Incarville à Balbec, nous nous étions tant de fois reconduits l'un l'autre jusqu'au petit jour. Je n'avais plus qu'un espoir pour l'avenir – espoir bien plus déchirant qu'une crainte, – c'était d'oublier Albertine. Je savais que je l'oublierais un jour, j'avais bien oublié Gilberte, Mme de Guermantes, j'avais bien oublié ma grand'mère. Et c'est notre plus juste et plus cruel châtiment de l'oubli si total, paisible comme ceux des cimetières, par quoi nous nous sommes détachés de ceux que nous n'aimons plus, que nous entrevoyions ce même oubli comme inévitable à l'égard de ceux que nous aimons encore. À vrai dire nous savons qu'il est un état non douloureux, un état d'indifférence. Mais ne pouvant penser à la fois à ce que j'étais et à ce que je serais, je pensais avec désespoir à tout ce tégument de caresses, de baisers, de sommeils amis, dont il faudrait bientôt me laisser dépouiller pour jamais. L'élan de ces souvenirs si tendres, venant se briser contre l'idée qu'Albertine était morte, m'oppressait par l'entrechoc de flux si contrariés que je ne pouvais rester immobile ; je me levais, mais tout d'un coup je m'arrêtais, terrassé ; le même petit jour que je voyais, au moment où je venais de quitter Albertine, encore radieux et chaud de ses baisers, venait tirer au-dessus des rideaux sa lame maintenant sinistre, dont la blancheur froide, implacable et compacte entrait, me donnant comme un coup de couteau. Albertine disparue
During our last intervention (the 3 missi dominici in Neuilly), Jérôme has invoked the text that made him discover Proust, for the baccalauréat, and made him rush, in spite of his youth, to read the whole Search. I have looked for that excerpt and dedicate it all those who were perspiring during that evening, and those who attended the conventions, meetings etc that took place at the hottest period of the heat wave, and that however were very successful, sign that Proust attracts crowds.
How slow the day is in dying on these interminable summer evenings. A pallid ghost of the house opposite continued indefinitely to sketch upon the sky its persistent whiteness. At last it was dark indoors; I stumbled against the furniture in the hall, but in the door that opened upon the staircase, in the midst of the darkness which I had supposed to be complete, the glazed panel was translucent and blue, with the blue of a flower, the blue of an insect's wing, a blue that would have seemed to me beautiful if I had not felt it to be a last reflexion, trenchant as a blade of steel, a supreme blow which in its indefatigable cruelty the day was still dealing me. In the end, however, the darkness became complete, but then a glimpse of a star behind one of the trees in the courtyard was enough to remind me of how we used to set out in a carriage, after dinner, for the woods of Chantepie, carpeted with moonlight. And even in the streets it would so happen that I could isolate upon the back of a seat, could gather there the natural purity of a moonbeam in the midst of the artificial lights of Paris, of that Paris over which it enthroned, by making the town return for a moment, in my imagination, to a state of nature, with the infinite silence of the suggested fields, the heartrending memory of the walks that I had taken in them with Albertine. Ah! when would the night end? But at the first cool breath of dawn I shuddered, for it had revived in me the delight of that summer when, from Balbec to Incarville, from Incarville to Balbec, we had so many times escorted each other home until the break of day. I had now only one hope left for the future — a hope far more heartrending than any dread — which was that I might forget Albertine. I knew that I should one day forget her; I had quite forgotten Gilberte, Mme. de Guermantes; I had quite forgotten my grandmother. And it is our most fitting and most cruel punishment, for that so complete oblivion, as tranquil as the oblivion of the graveyard, by which we have detached ourself from those whom we no longer love, that we can see this same oblivion to be inevitable in the case of those whom we love still. To tell the truth, we know it to be a state not painful, a state of indifference. But not being able to think at the same time of what I was and of what I should one day be, I thought with despair of all that covering mantle of caresses, of kisses, of friendly slumber, of which I must presently let myself be divested for all time. The rush of these tender memories sweeping on to break against the knowledge that Albertine was dead oppressed me by the incessant conflict of their baffled waves so that I could not keep still; I rose, but all of a sudden I stopped in consternation; the same faint daybreak that I used to see at the moment when I had just left Albertine, still radiant and warm with her kisses, had come into the room and bared, above the curtains, its blade now a sinister portent, whose whiteness, cold, implacable and compact, entered the room like a dagger thrust into my heart. The Fugitive