Je n'ai pas pu résister au jeu de mot facile: actualité oblige...
Je ferai donc une des "Sept leçons de Marcel Proust", sous mon arbre
Hier soir, Chantal Charrier a été excellente comme toujours, surtout lorsqu'elle a lu ce texte: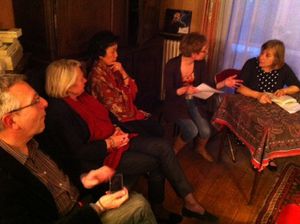 Mme Verdurin pour que son silence n'eût pas l'air d'un consentement, mais du silence ignorant des choses inanimées, avait soudain dépouillé son visage de toute vie, de toute motilité ; son front bombé n'était plus qu'une belle étude de ronde bosse où le nom de ces La Trémoïlle, chez qui était toujours fourré Swann, n'avait pu pénétrer ; son nez légèrement froncé laissait voir une échancrure qui semblait calquée sur la vie. On eût dit que sa bouche entr'ouverte allait parler. Ce n'était plus qu'une cire perdue, qu'un masque de plâtre, qu'une maquette pour un monument, qu'un buste pour le Palais de l'Industrie, devant lequel le public s'arrêterait certainement pour admirer comment le sculpteur, en exprimant l'imprescriptible dignité des Verdurin opposée à celle des La Trémoïlle et des Laumes qu'ils valent certes ainsi que tous les ennuyeux de la terre, était arrivé à donner une majesté presque papale à la blancheur et à la rigidité de la pierre. Mais le marbre finit par s'animer et fit entendre qu'il fallait ne pas être dégoûté pour aller chez ces gens-là, car la femme était toujours ivre et le mari si ignorant qu'il disait collidor pour corridor. (CS)
Mme. Verdurin, so that her silence should have the appearance, not of consent but of the unconscious silence which inanimate objects preserve, had suddenly emptied her face of all life, of all mobility; her rounded forehead was nothing, now, but an exquisite study in high relief, which the name of those La Trémoïlles, with whom Swann was always 'shut up,' had failed to penetrate; her nose, just perceptibly wrinkled in a frown, exposed to view two dark cavities that were, surely, modelled from life. You would have said that her half-opened lips were just about to speak. It was all no more, however, than a wax cast, a mask in plaster, the sculptor's design for a monument, a bust to be exhibited in the Palace of Industry, where the public would most certainly gather in front of it and marvel to see how the sculptor, in expressing the unchallengeable dignity of the Verdurins, as opposed to that of the La Trémoïlles or Laumes, whose equals (if not, indeed, their betters) they were, and the equals and betters of all other 'bores' upon the face of the earth, had managed to invest with a majesty that was almost Papal the whiteness and rigidity of his stone. But the marble at last grew animated and let it be understood that it didn't do to be at all squeamish if one went to that house, since the woman was always tipsy and the husband so uneducated that he called a corridor a 'collidor'!