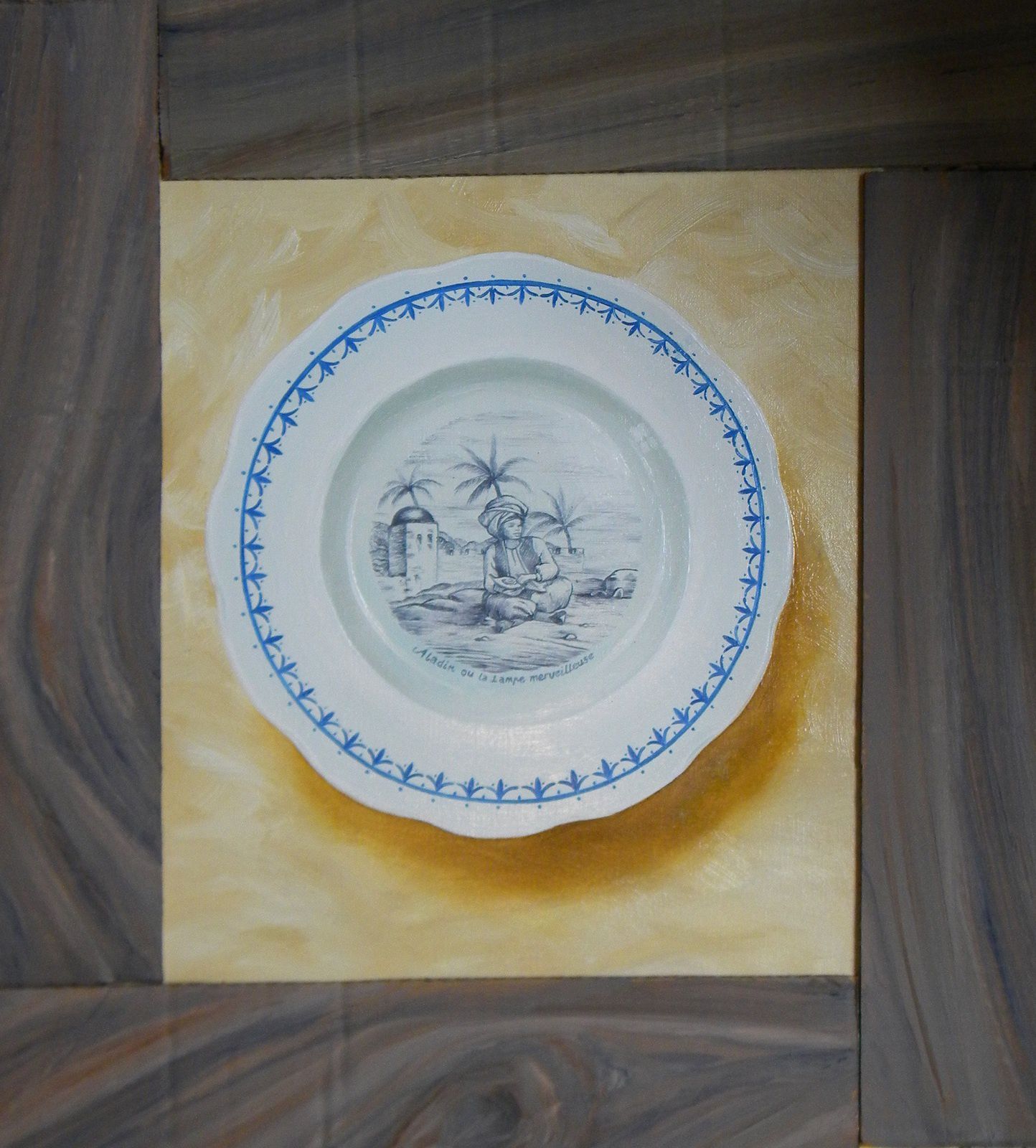 Aladin, autre héros des Mille et une nuits peinture de Armel Siret (Combray, Éditions de la spirale)
Grand congrès à Pékin, ce mercredi, et Jules est en route....
Son congrès n'est cependant pas celui du Parti Communiste Chinois qui, lit-on partout, va couronner Xi-Jinping de plus belle. Une occasion pour moi de lire un article très instructif dans les Echos ce matin; tandis que pour se préparer à un choc culturel Jules lit Lao Tseu, Je me demande si cette lecture le prépare bien à la Chine d'aujourd'hui dont l'un des héros était aussi l'un de ceux du narrateur, Ali Baba ?
PS; dans cet article j'ai appris ce que voulait dire une MÉTAPHORE actuelle; une LICORNE = start-up capitalisée à plus d'un milliard. Quelle poésie!
C'est qu'avec les sandwiches au chester et à la salade, nourriture ignorante et nouvelle, je n'avais rien à dire. Mais les gâteaux étaient instruits, les tartes étaient bavardes. Il y avait dans les premiers des fadeurs de crème et dans les secondes des fraîcheurs de fruits qui en savaient long sur Combray, sur Gilberte, non seulement la Gilberte de Combray mais celle de Paris aux goûters de qui je les avais retrouvés. Ils me rappelaient ces assiettes à petits fours, des Mille et une Nuits, qui distrayaient tant de leurs « sujets » ma tante Léonie quand Françoise lui apportait un jour Aladin ou la Lampe Merveilleuse, un autre Ali-Baba, le Dormeur éveillé ou Sinbad le Marin embarquant à Bassora avec toutes ses richesses. J'aurais bien voulu les revoir, mais ma grand'mère ne savait pas ce qu'elles étaient devenues et croyait d'ailleurs que c'était de vulgaires assiettes achetées dans le pays. À l'ombre des jeunes filles en fleurs
Huge convention in Beijing, this Wednesday, and Jules is on his way....
However his meeting is not part of the Chinese Communist Party congress where, as it's written everywhere, Xi-Jinping will consolidate his power. For me an opportunity to read an informative article in this morning's issue of les Echos ; while to be prepared to a cultural schock Jules reads Lao Tseu, I wonder if reading that ancient philosopher prepares him well to modern China where one of the most celebrated heroe is shared by the narrator, Ali Baba?
My friends preferred the sandwiches, and were surprised to see me eat only a single chocolate cake, sugared with gothic tracery, or an apricot tart. This was because, with the sandwiches of cheese or of green-stuff, a form of food that was novel to me and knew nothing of the past, I had nothing in common. But the cakes understood, the tarts were gossips. There were in the former an insipid taste of cream, in the latter a fresh taste of fruit which knew all about Combray, and about Gilberte, not only the Gilberte of Combray but her too of Paris, at whose tea-parties I had found them again. They reminded me of those cake-plates of the Arabian Nights pattern, the subjects on which were such a distraction to my aunt Léonie when Françoise brought her up, one day, Aladdin or the Wonderful Lamp, another day Ali-Baba, or the Sleeper Awakes, or Sinbad the Sailor embarking at Bassorah with all his treasure. I should dearly have liked to see them again, but my grandmother did not know what had become of them, and thought moreover that they were just common plates that had been bought in the village. Within a Budding Grove