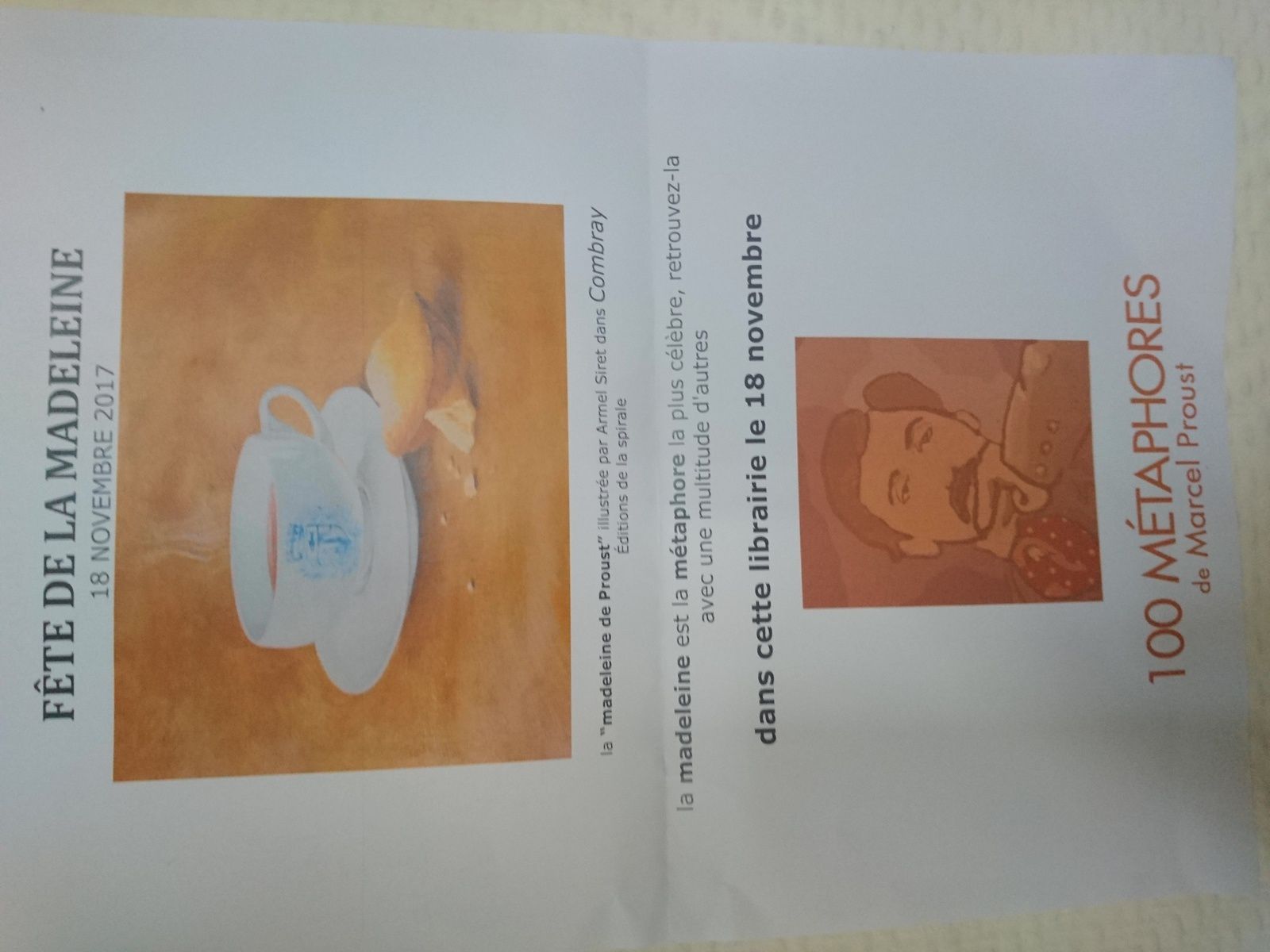 Dans un mois, le 18 novembre, anniversaire de la mort de Proust, fêtons la métaphore la plus célèbre: les librairies participantes offriront des MADELEINES maison, ou/et marque-page, cartes postales et autres petits cadeaux rassemblés autour des 100 MÉTAPHORES de Marcel Proust. Cette année la fête sera célébrée dans quelques petits temples de la littérature, en attendant le ralliement d'institutions de plus en plus nombreuses. En espérant que les proustiens du monde entier suivront ! VIVE LA MÉTAPHORE ! VIVE LA MADELEINE ! VIVE LE BEAU LANGAGE ET LA LITTÉRATURE !
Madame Verdurin se serait éclatée !
Telle, étourdie par la gaieté des fidèles, ivre de camaraderie, de médisance et d'assentiment, Mme Verdurin, juchée sur son perchoir, pareille à un oiseau dont on eût trempé le colifichet dans du vin chaud, sanglotait d'amabilité. (CS)
In one month, November 18, anniversary of Proust' death, let's celebrate the most famous metaphor: participating bookstores will offer home-made MADELEINES, book marks, post cards and various small gifts gathered around the book 100 MÉTAPHORES de Marcel Proust. This first celebration will take place in a few small temples of literature, waiting for other institutions' rallying. Hoping that many Proustians all over the world will follow. LIVE THE METAPHOR, THE MADELEINE, BEAUTIFUL SPEECH AND LITERATURE !
àçç"'Madame Verdurin would have had a lot of fun !
So, stupefied with the gaiety of the 'faithful,' drunken with comradeship, scandal and asseveration, Mme. Verdurin, perched on her high seat like a cage-bird whose biscuit has been steeped in mulled wine, would sit aloft and sob with fellow-feeling. (SW)