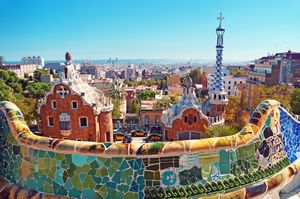 Je n'arrive pas à rouler les r, et Jules se moque de moi, et saute sur toutes les occasions pour me rappeler cette infirmité. Dernier rappel: il vient de partir pour un congrès à Barcelone, et, sur ses messages, roule les r à l'espagnole.
Pour une certaine partie — ce qui, à Balbec, donnait à la population, d'ordinaire banalement riche et cosmopolite, de ces sortes d'hôtels de grand luxe, un caract régional assez accentué — ils se composaient de personnalités éminentes des principaux départements de cette partie de la France, d'un premier président de Caen, d'un bâtonnier de Cherbourg, d'un grand notaire du Mans, qui à l'époque des vacances, partant des points sur lesquels toute l'année ils étaient disséminés en tirailleurs ou comme des pions au jeu de dames, venaient se concentrer dans cet hôtel. Ils y conservaient toujours les mêmes chambres, et, avec leurs femmes qui avaient des prétentions à l'aristocratie, formaient un petit groupe, auquel s'étaient adjoints un grand avocat et un grand médecin de Paris qui le jour du départ leur disaient:
— «Ah! c'est vrai, vous ne prenez pas le même train que nous, vous êtes privilégiés, vous serez rendus pour le déjeuner.»
— «Comment, privilégiés? Vous qui habitez la capitale, Paris, la grand ville, tandis que j'habite un pauvre chef-lieu de cent mille âmes, il est vrai cent deux mille au dernier recensement; mais qu'est-ce à côté de vous qui en comptez deux millions cinq cent mille? et qui allez retrouver l'asphalte et tout l'éclat du monde parisien.»
Ils le disaient avec un roulement d'r paysan, sans y mettre d'aigreur, car c'étaient des lumières de leur province qui auraient pu comme d'autres venir à Paris — on avait plusieurs fois offert au premier président de Caen un siège à la Cour de cassation — mais avaient préféré rester sur place, par amour de leur ville, ou de l'obscurité, ou de la gloire, ou parce qu'ils étaient réactionnaires, et pour l'agrément des relations de voisinage avec les châteaux.
A l'ombre des jeunes filles en fleurs
I cannot burr r's and Jules makes fun of me. He often tries to make me speak with a peasant accent. His last attempt: as he left for a convention in Barcelona, he sends me messages with a pretended burring spanish accent.
To a certain extent — and this, at Balbec, gave to the population, as a rule monotonously rich and cosmopolitan, of that sort of smart and 'exclusive' hotel, a quite distinctive local character — they were composed of eminent persons from the departmental capitals of that region of France, a chief magistrate from Caen, a leader of the Cherbourg bar, a big solicitor from Le Mans, who annually, when the holidays came round, starting from the various points over which, throughout the working year, they were scattered like snipers in a battle or draughtsmen upon a board, concentrated their forces upon this hotel. They always reserved the same rooms, and with their wives, who had pretensions to aristocracy, formed a little group, which was joined by a leading barrister and a leading doctor from Paris, who on the day of their departure would say to the others:
"Oh, yes, of course; you don't go by our train. You are fortunate, you will be home in time for luncheon."
"Fortunate, do you say? You, who live in the Capital, in 'Paris, the great town,' while I have to live in a wretched county town of a hundred thousand souls (it is true, we managed to muster a hundred and two thousand at the last census, but what is that compared to your two and a half millions?) going back, too, to asphalt streets and all the bustle and gaiety of Paris life?"
They said this with a rustic burring of their r's, but without bitterness, for they were leading lights each in his own province, who could like other people have gone to Paris had they chosen — the chief magistrate of Caen had several times been offered a judgeship in the Court of Appeal — but had preferred to stay where they were, from love of their native towns or of obscurity or of fame, or because they were reactionaries, and enjoyed being on friendly terms with the country houses of the neighbourhood. Besides several of them were not going back at once to their county towns.
Within a Budding Grove