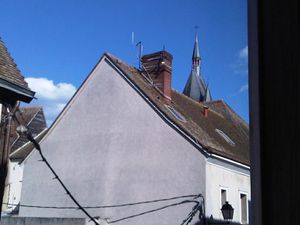 Aujour'hhui mon neveu Tite s'est marié, et j'ai pensé à la fille du Dr Percepied!
Today was my nephew's wedding; and I thought of Dr Percepied's daughter!
Un jour ma mère me dit: «Puisque tu parles toujours de Mme de Guermantes, comme le docteur Percepied l'a très bien soignée il y a quatre ans, elle doit venir à Combray pour assister au mariage de sa fille. Tu pourras l'apercevoir à la cérémonie.» C'était du reste par le docteur Percepied que j'avais le plus entendu parler de Mme de Guermantes, et il nous avait même montré le numéro d'une revue illustrée où elle était représentée dans le costume qu'elle portait à un bal travesti chez la princesse de Léon.
Du côté de chez Swann, Combray
One day my mother said: "You are always talking about Mme. de Guermantes. Well, Dr. Percepied did a great deal for her when she was ill, four years ago, and so she is coming to Combray for his daughter's wedding. You will be able to see her in church." It was from Dr. Percepied, as it happened, that I had heard most about Mme. de Guermantes, and he had even shewn us the number of an illustrated paper in which she was depicted in the costume which she had worn at a fancy dress ball given by the Princesse de Léon.
Swann's way, Combray