Je recherchai l'incipit d'un très beau livre (La modification de Michel Butor), à la bibliothèque de Sceaux, quand je m'aperçus que l'éditeur en était Les éditions de Minuit, mot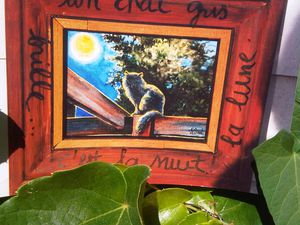 que je ne pus m'empêcher de lire comme l'aurait dit Françoise, la bonne de la tante Léonie, puis des parents du narrateur, enfin du narrateur lui-même.
As I was looking for an excellent book (The modification by Michel Butor) at the Sceaux library, I noticed the name of the publisher: Editions de Minuit, which reminded me of Françoise, Tante Léonie' and later the narrator' servant.
CHAT à MINUIT, tableau d'Armel Siret, le peintre des Sables d'Olonne
[Françoise au sujet d'Odette] "Il paraît qu'elle a bien confiance à des médailles. Jamais elle ne partira en voyage si elle a
entendu la chouette, ou bien comme un tic-tac d'horloge dans le mur, ou si elle a vu un chat à ménuit, ou si le bois d'un meuble, il a craqué. Ah! c'est une personne très croyante!"
Du côté de chez Swann, III
[Françoise on Odette]"It seems she got great faith in medals. She wouldn't think of starting on a journey if she'd heard an owl hoot, or a sort of tick-tock in the wall, or if sh'd seen a cat at midnight, or if the furniture had creaked. Oh yes! she is a most religious lady, she is!"

Swann's way, Place-name: the name, Trad. C.K. Scottt Moncrieff