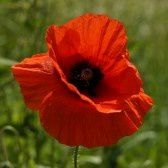 Dans une rue de Sceaux, à la recherche de sa voiture garée rue des Imbergères, Jahida saisit un bourgeon de coquelicot et l'ouvrit délicatement, en évoquant son enfance: c'était un jeu qu'elle affectionnait, deviner de quelle couleur seraient les pétales, rouges, rosés ou violet, avec des étamines noires. Je regrettai de n'avoir jamais joué à ce jeu si poétique.
Sans doute, ce n'est pas le bon sens qui est «la chose du monde la plus répandue», c'est la bonté. Dans les coins les plus lointains, les plus perdus, on s'émerveille de la voir fleurir d'elle-même, comme dans un vallon écarté un coquelicot pareil à ceux du reste du monde, lui qui ne les a jamais vus, et n'a jamais connu que le vent qui fait frissonner parfois son rouge chaperon solitaire. (JF)
In a Sceaux' street, looking for her car, Jahida showed me a little game she used to play as a child: open a poppy's bud and discover the color of the petals, red, pink or purple, with black stamen. I regretted not to have ever played so poetic a game...
Undoubtedly, it is not common sense that is "the commonest thing in the world"; but human kindness. In the most distant, the most desolate ends of the earth, we marvel to see it blossom of its own accord, as in a remote valley a poppy like the poppies in the world beyond, poppies which it has never seen as it has never known aught but the wind that, now and again, stirring the folds of its scarlet cloak, disturbs its solitude. (BG)