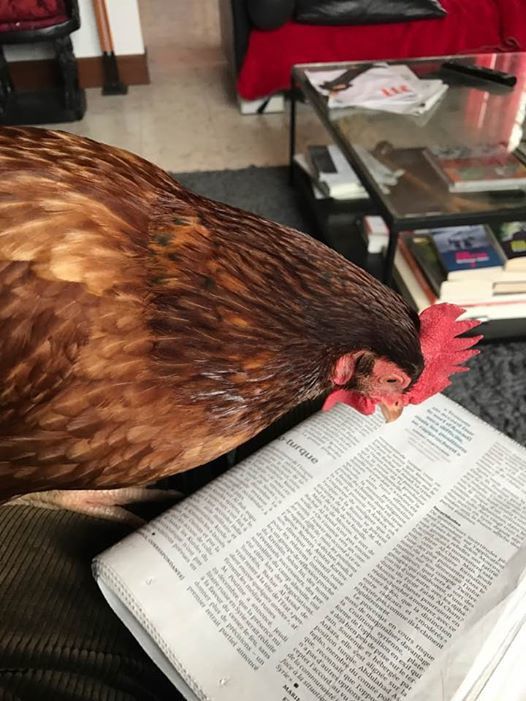 La poule photographiée par son maître, le fou de Proust, Patrice Louis; n'en croit pas ses yeux; elle vient d'apprendre dans un article du Monde que:
les Dînez avec Proust repartent pour une deuxième saison, au café de la Mairie, le jeudi 12 janvier (si vous désirez un rôle que vous travailleriez à l'avance, faites-le moi savoir pour recevoir la partition), veille du 13 janvier (date du spectacle convivial "les Proustiens" avec Dominique Drouin, au 88, bd Saint-Germain) comme l'aurait remarqué M. de La Palice, qui n'était pourtant pas ami avec Cottard.
Que la poule se rassure, les oeufs qu'elle ne manque pas de pondre sont appréciés pour leur fraicheur, on est en France.
« Babal sait toujours tout ! s'écria la duchesse de Guermantes. Je trouve charmant un pays où on veut être sûr que votre crémier vous vende des oeufs bien pourris, des oeufs de l'année de la comète. Je me vois d'ici y trempant ma mouillette beurrée. Je dois dire que cela arrive chez la tante Madeleine (Mme de Villeparisis) qu'on serve des choses en putréfaction, même des oeufs (et comme Mme d'Arpajon se récriait) : Mais voyons, Phili, vous le savez aussi bien que moi. Le poussin est déjà dans l'oeuf. Je ne sais même pas comment ils ont la sagesse de s'y tenir. Ce n'est pas une omelette, c'est un poulailler, mais au moins ce n'est pas indiqué sur le menu. Vous avez bien fait de ne pas venir dîner avant-hier, il y avait une barbue à l'acide phénique ! Ça n'avait pas l'air d'un service de table, mais d'un service de contagieux. Vraiment Norpois pousse la fidélité jusqu'à l'héroïsme : il en a repris ! » Le côté des Guermantes
The chicken photographed by her master, le fou de Proust, Patrice Louis; cannot believe her own eyes, she just discovered in a article in Le Monde that:
New season for Dînez avec Proust, au café de la Mairie, on Thursday, January 12, the day before January 13 (date of the convivial show "les Proustiens" presenting Dominique Drouin, 88, bd Saint-Germain).
The hen must be assured that her eggs, that she dutifully lays, are appreciated for their freshness, we are in France.
"Babal always knows everything," exclaimed the Duchesse de Guermantes. "I think it must be charming, a country where you can be quite sure that your dairyman will supply you with really rotten eggs, eggs of the year of the comet. I can see myself dipping my bread and butter in them. I must say, you get the same thing at aunt Madeleine's" (Mme. de Villeparisis's) "where everything's served in a state of putrefaction, eggs included." Then, as Mme. d'Arpajon protested, "But my dear Phili, you know it as well as I do. You can see the chicken in the egg. What I can't understand is how they manage not to fall out. It's not an omelette you get there, it's a poultry-yard. You were so wise not to come to dinner there yesterday, there was a brill cooked in carbolic! I assure you, it wasn't a dinner-table, it was far more like an operating-table. Really, Norpois carries loyalty to the pitch of heroism. He actually asked for more!" The Guermantes Way