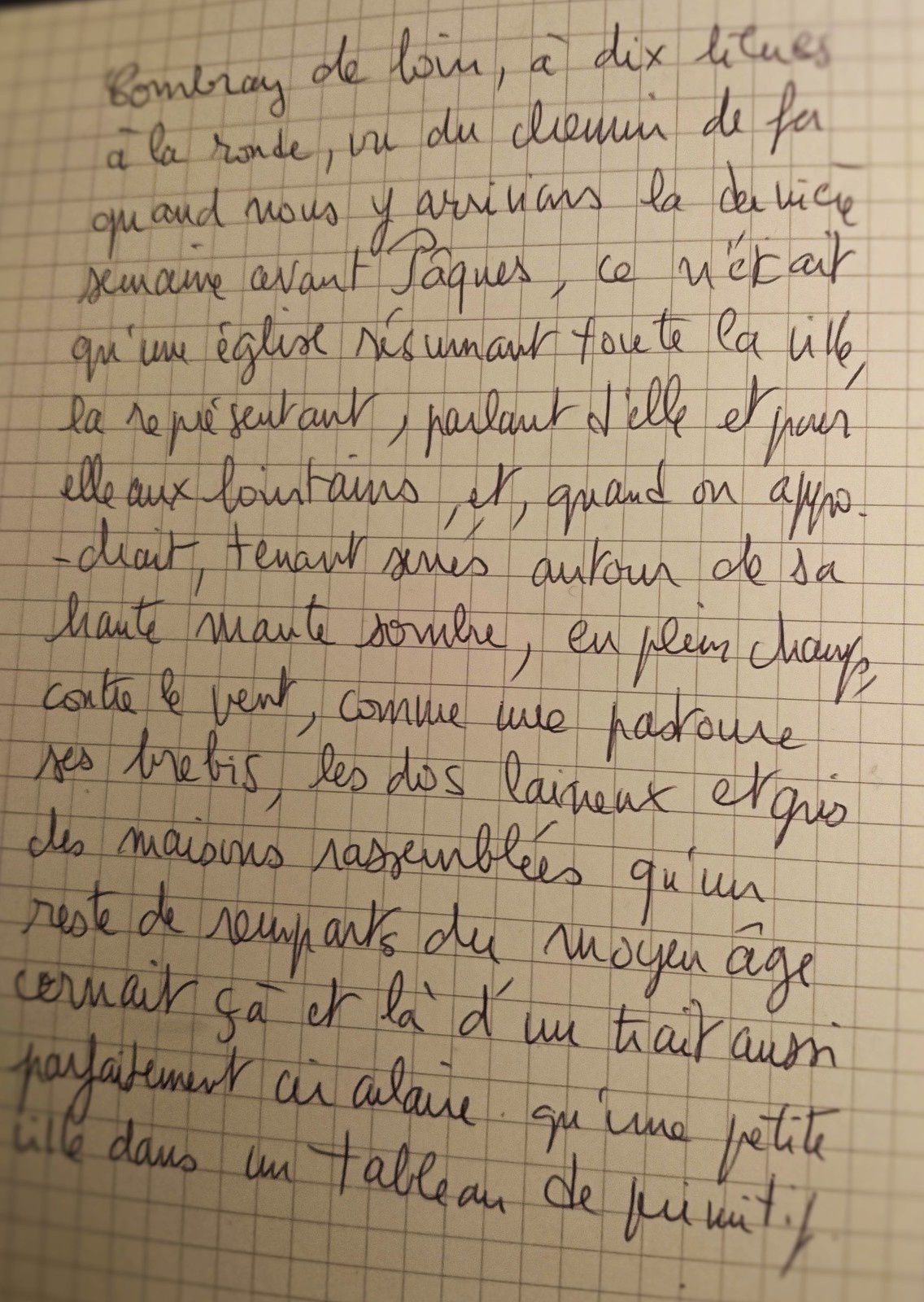 La phrase représente à elle seule un monde complet, un tout qui se suffit à lui-même:
Combray de loin, à dix lieues à la ronde, vu du chemin de fer quand nous y arrivions la dernière semaine avant Pâques, ce n'était qu'une église résumant la ville, la représentant, parlant d'elle et pour elle aux lointains, et, quand on approchait, tenant serrés autour de sa haute mante sombre, en plein champ, contre le vent, comme une pastoure ses brebis, les dos laineux et gris des maisons rassemblées qu'un reste de remparts du moyen âge cernait çà et là d'un trait aussi parfaitement circulaire qu'une petite ville dans un tableau de primitif. Du côté de chez Swann (tout début de "Combray")
Pour vous aider:
--- lisez la phrase à voix haute - - - laissez-vous porter par le rythme de l'écriture. --- ne vous laissez pas obnubiler par la crainte de perdre le fil. --- écoutez la musique du texte.
__________________________________________________________________________
Actualités:
samedi 21 (demain) La Dive Note avec Jérôme Bastianelli
mercredi 25 janvier: Dînez avec Proust
vendredi 27 janvier:: LA VIE AVEC PROUST, au 88 bd Saint-Germain, au sous-sol à 18h 30, suivi (si on veut) d'un dîner proustien. Invité-surprise: "Pr Cottard"
__________________________________________________________________________
The sentence represents in itself a complete, self-sufficient world:
Combray at a distance, from a twenty-mile radius, as we used to see it from the railway when we arrived there every year in Holy Week, was no more than a church epitomising the town, representing it, speaking of it and for it to the horizon, and as one drew near, gathering close about its long, dark cloak, sheltering from the wind, on the open plain, as a shepherd gathers his sheep, the woolly grey backs of its flocking houses, which a fragment of its mediaeval ramparts enclosed, here and there, in an outline as scrupulously circular as that of a little town in a primitive painting. Swann's Way ("Combray")
For help:
--- Read this sentence loud--- - let you be carried by the writing's rhythm---- don't be obsessed by the fear of losing the thread --- listen to the text's music.