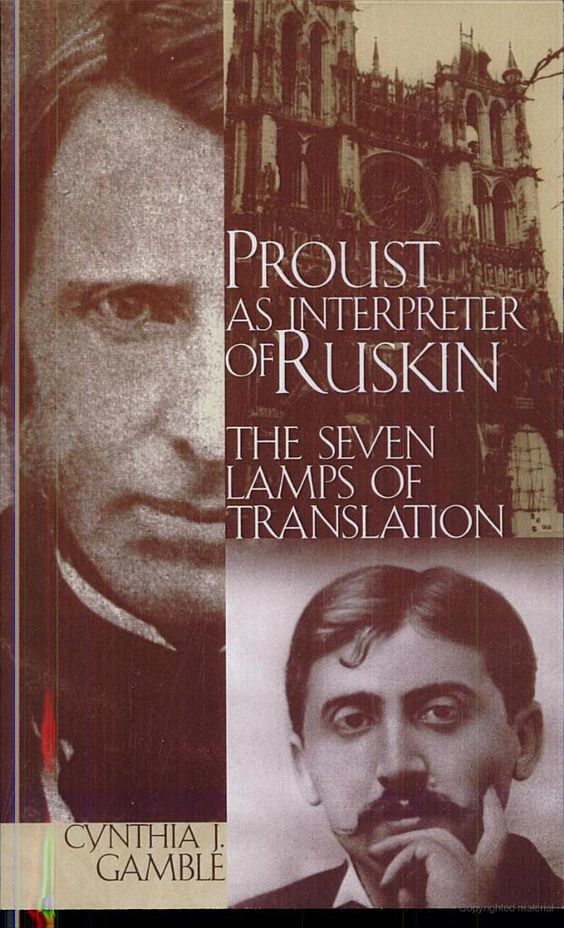 En hommage à Proust et Ruskin, un salut amical à la grande spécialiste de Ruskin, Cynthia Gamble, admirée dans son pays, la Grande-Bretagne, et respectée dans le nôtre par notre spécialiste à nous les Français, Jérôme Bastianelli.
Ah, ces Anglais!
Un jour que, de Josselin où j'étais chez les Rohan, nous étions allés à un pèlerinage, il était venu des paysans d'un peu toutes les parties de la Bretagne. Un grand diable de villageois du Léon regardait avec ébahissement les culottes beiges du beau-frère de Robert. « Qu'est-ce que tu as à me regarder, je parie que tu ne sais pas qui je suis », lui dit Léon. Et comme le paysan lui disait que non. « Eh bien, je suis ton prince. – Ah ! répondit le paysan en se découvrant et en s'excusant, je vous avais pris pour un englische. » La prisonnière
In honor of Proust et Ruskin, a friendly hello to the famous specialist of Ruskin, Cynthia Gamble, admired in her country, Great Britain, and respected in ours by our own French specialist , Jérôme Bastianelli.
Ah, these Englische!
Once when I was staying at Josselin, with the Rohans, we all went over to one of the pilgrimages, where there were peasants from every part of Brittany. A great hulking fellow from one of the Léon villages stood gaping open-mouthed at Robert's brother-in-law in his beige breeches! 'What are you staring at me like that for?' said Léon. 'I bet you don't know who I am?' The peasant admitted that he did not. 'Very well,' said Léon, 'I'm your Prince.' 'Oh!' said the peasant, taking off his cap and apologising. 'I thought you were an Englische.'" The Captive