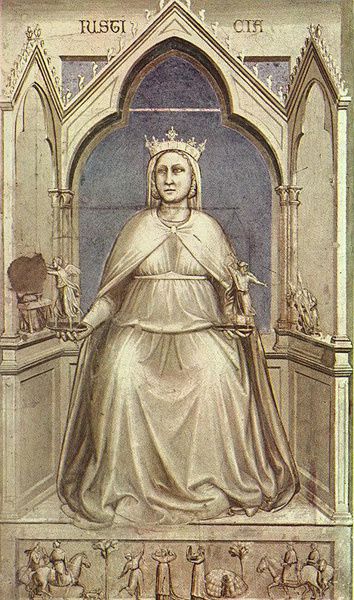 La Justice, Giotto, chapelle Scrovegni à Padoue
Alors que François Hollande donne son avis sur la justice, dans son livre de confessions, et que les magistrats en sont tout humiliés et furieux, le narrateur enfant, lui se fait une idée de cette vertu de justice, par le biais de l'art, un biais aussi cruel que l'exercice du pouvoir et la fréquentation des juges.
Malgré toute l'admiration que M. Swann professait pour ces figures de Giotto, je n'eus longtemps aucun plaisir à considérer dans notre salle d'études, où on avait accroché les copies qu'il m'en avait rapportées, cette Charité sans charité, cette Envie qui avait l'air d'une planche illustrant seulement dans un livre de médecine la compression de la glotte ou de la luette par une tumeur de la langue ou par l'introduction de l'instrument de l'opérateur, une Justice, dont le visage grisâtre et mesquinement régulier était celui-là même qui, à Combray, caractérisait certaines jolies bourgeoises pieuses et sèches que je voyais à la messe et dont plusieurs étaient enrôlées d'avance dans les milices de réserve de l'Injustice. Mais plus tard j'ai compris que l'étrangeté saisissante, la beauté spéciale de ces fresques tenait à la grande place que le symbole y occupait, et que le fait qu'il fût représenté non comme un symbole puisque la pensée symbolisée n'était pas exprimée, mais comme réel, comme effectivement subi ou matériellement manié, donnait à la signification de l'oeuvre quelque chose de plus littéral et de plus précis, à son enseignement quelque chose de plus concret et de plus frappant. Du côté de chez Swann
While François Hollande gives his sad opinion on French justice, in his book of confessions, and that juges are all furious and humiliated, Marcel, as a child, makes his own idea of this virtue of justice, through art, a mean as cruel as exercising power and meeting magistrates.
Despite all the admiration that M. Swann might profess for these figures of Giotto, it was a long time before I could find any pleasure in seeing in our schoolroom (where the copies he had brought me were hung) that Charity devoid of charity, that Envy who looked like nothing so much as a plate in some medical book, illustrating the compression of the glottis or uvula by a tumour in the tongue, or by the introduction of the operator's instrument, a Justice whose greyish and meanly regular features were the very same as those which adorned the faces of certain good and pious and slightly withered ladies of Combray whom I used to see at mass, many of whom had long been enrolled in the reserve forces of Injustice. But in later years I understood that the arresting strangeness, the special beauty of these frescoes lay in the great part played in each of them by its symbols, while the fact that these were depicted, not as symbols (for the thought symbolised was nowhere expressed), but as real things, actually felt or materially handled, added something more precise and more literal to their meaning, something more concrete and more striking to the lesson they imparted. Swann's Way