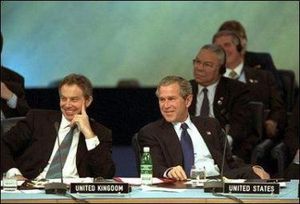 Following the scathing Chilcot report, I suggest that if Blair had the slightest sense of honor, he would appear in public in a kind of monk frock, and would renounce honors, wealth, family, ot devote the rest of his life to a grand charitable unglamorous cause. Sometimes we wish we were in the Middle Ages.
[Norpois]: Nevertheless, I must admit that there are depths of degradation to which I should hesitate to descend, while these are rendered more repulsive still by the tone, not moral, merely — let us be quite frank and say moralising — that Bergotte takes up in his books, where one finds nothing but perpetual and, between ourselves, somewhat wearisome analyses, torturing scruples, morbid remorse, and all for the merest peccadilloes, the most trivial naughtinesses (as one knows from one's own experience), while all the time he is shewing such an utter lack of conscience and so much cynicism in his private life. Within a Budding Grove
Suivant l'accablant rapport Chilcot, je me dis que si Blair avait le moindre sens de l'honneur, il apparaitrait en public en robe de bure et renoncerait à honneurs, famille, richesse, en se vouant à une grande cause charitable pour le reste de ses jours. On regrette parfois le Moyen Age.
[Norpois]: Néanmoins, j'avoue qu'il y a un degré d'ignominie dont je ne saurais m'accommoder, et qui est rendu plus écoeurant encore par le ton plus que moral, tranchons le mot, moralisateur, que prend Bergotte dans ses livres où on ne voit qu'analyses perpétuelles et d'ailleurs, entre nous, un peu languissantes, de scrupules douloureux, de remords maladifs, et pour de simples peccadilles, de véritables prêchi-prêcha (on sait ce qu'en vaut l'aune) alors qu'il montre tant d'inconscience et de cynisme dans sa vie privée. A l'ombre des jeunes filles en fleurs