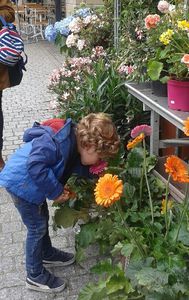 Suite au concours de nouvelles "Couleurs", où j'ai été lauréate (parmi 17), en très grande partie grâce au bleu et au jaune, je voudrais publier sur ce blog des photos, que mes lecteurs et amis m'enverraient sur ce thème, la première reçue est de Catherine Le Gallen. Le prix (le livre, publié par les Editions du cherche midi ) sera donné le vendredi 3 juin, à "La fête de l'amitié et de l'amour", café de la Mairie à partir de 18 h 30.
Depuis que j'en avais vu dans des aquarelles d'Elstir, je cherchais à retrouver dans la réalité, j'aimais comme quelque chose de poétique, le geste interrompu des couteaux encore de travers, la rondeur bombée d'une serviette défaite où le soleil intercale un morceau de velours jaune, le verre à demi vidé qui montre mieux ainsi le noble évasement de ses formes, et au fond de son vitrage translucide et pareil à une condensation du jour, un reste de vin sombre, mais scintillant de lumières, le déplacement des volumes, la transmutation des liquides par l'éclairage, l'altération des prunes qui passent du vert au bleu et du bleu à l'or dans le compotier déjà à demi dépouillé, la promenade des chaises vieillottes qui deux fois par jour viennent s'installer autour de la nappe dressée sur la table ainsi que sur un autel où sont célébrées les fêtes de la gourmandise, et sur laquelle au fond des huîtres quelques gouttes d'eau lustrale restent comme dans de petits bénitiers de pierre ; j'essayais de trouver la beauté là où je ne m'étais jamais figuré qu'elle fût, dans les choses les plus usuelles, dans la vie profonde des « natures mortes ». A l'ombre des jeunes filles en fleurs
To capitalize on the short stories' competition that I won (with 16 other laureates) for a big part thanks to the colors blue and yellow, I would like to put on that blog the photographs, or anything blue and yellow that my readers and friends would submit.The prize (a copy of the book) will be given to the best work, on June 3, at the café de la Mairie, during the "Fête de l'amitié et de l'amour".
Since I had seen such things depicted in water-colours by Elstir, I sought to find again in reality, I cherished, as though for their poetic beauty, the broken gestures of the knives still lying across one another, the swollen convexity of a discarded napkin upon which the sun would patch a scrap of yellow velvet, the half-empty glass which thus shewed to greater advantage the noble sweep of its curved sides, and, in the heart of its translucent crystal, clear as frozen daylight, a dreg of wine, dusky but sparkling with reflected lights, the displacement of solid objects, the transmutation of liquids by the effect of light and shade, the shifting colour of the plums which passed from green to blue and from blue to golden yellow in the half-plundered dish, the chairs, like a group of old ladies, that came twice daily to take their places round the white cloth spread on the table as on an altar at which were celebrated the rites of the palate, where in the hollows of oyster-shells a few drops of lustral water had gathered as in tiny holy water stoups of stone; I tried to find beauty there where I had never imagined before that it could exist, in the most ordinary things, in the profundities of 'still life.' Within a Budding Grove