Les lauréats du concours "les abeilles de Guerlain" pour le livre "Couleurs", aux Editions du Cherche-midi, photo Arnaud Joron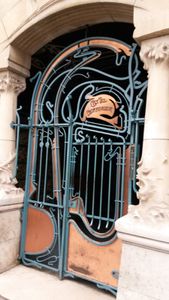 Les candidatures arrivent: cette fois-ci c'est Hector Guimard, architecte représentant de l'art nouveau, qui est à l'honneur, grâce à une photo d'Irène Pertus.
Enfin il fut devant le Ver Meer, qu'il se rappelait plus éclatant, plus différent de tout ce qu'il connaissait, mais où, grâce à l'article du critique, il remarqua pour la première fois des petits personnages en bleu, que le sable était rose, et enfin la précieuse matière du tout petit pan de mur jaune. La Prisonnière
Answers are coming; this time it is Hector Guimard, an architect representative of Art Nouveau, who enters the competition, thanks to a photograph by Irene Pertus.
At last he came to the Vermeer which he remembered as more striking, more different from anything else that he knew, but in which, thanks to the critic's article, he remarked for the first time some small figures in blue, that the ground was pink, and finally the precious substance of the tiny patch of yellow wall. The Captive