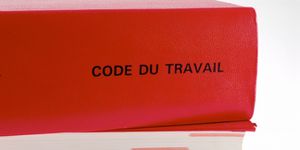 Dans le Figaro de ce matin, un article sur la satisfaction au travail: sur 17 pays à économie développée, la France est classée dernière. Je ne veux pas analyser les raisons de ce triste état de choses, triste surtout pour l'économie française, mais ma vie en Amérique m'avait bien fait comprendre que, outre-Atlantique, l'endroit le plus désirable était à son bureau, ou à sa machine, au travail avec ses collègues. Alors qu'ici on est mieux en vacances, ou à discuter autour d'un boeuf en gelée ou un magret de canard (qui sera servi jeudi prochain 10 mars au Café de la mairie, durant le prochain "Dînez avec Proust" ). Des relents de lutte des classes, le poids de l'individualisme, la présence d'insupportables petits chefs, la morgue des supérieurs et l'attente moutonnière de leurs subordonnés qui aiment être dirigés, et recherchent l'autorité, surtout pour la railler, tout ce caractère national exquis, est source d'inspiration pour le plus grand romancier, mais un véritable casse-tête pour le gouvernement qui voudrait réformer.
Si, quand son petit-fils était un peu enrhumé du cerveau, elle partait la nuit, même malade, au lieu de se coucher, pour voir s'il n'avait besoin de rien, faisant quatre lieues à pied avant le jour afin d'être rentrée pour son travail, en revanche ce même amour des siens et son désir d'assurer la grandeur future de sa maison se traduisait dans sa politique à l'égard des autres domestiques par une maxime constante qui fut de n'en jamais laisser un seul s'implanter chez ma tante, qu'elle mettait d'ailleurs une sorte d'orgueil à ne laisser approcher par personne, préférant, quand elle-même était malade, se relever pour lui donner son eau de Vichy plutôt que de permettre l'accès de la chambre de sa maîtresse à la fille de cuisine. Et comme cet hyménoptère observé par Fabre, la guêpe fouisseuse, qui pour que ses petits après sa mort aient de la viande fraîche à manger, appelle l'anatomie au secours de sa cruauté et, ayant capturé des charançons et des araignées, leur perce avec un savoir et une adresse merveilleux le centre nerveux d'où dépend le mouvement des pattes, mais non les autres fonctions de la vie, de façon que l'insecte paralysé près duquel elle dépose ses oeufs, fournisse aux larves, quand elles écloront un gibier docile, inoffensif, incapable de fuite ou de résistance, mais nullement faisandé, Françoise trouvait pour servir sa volonté permanente de rendre la maison intenable à tout domestique, des ruses si savantes et si impitoyables que, bien des années plus tard, nous apprîmes que si cet été-là nous avions mangé presque tous les jours des asperges, c'était parce que leur odeur donnait à la pauvre fille de cuisine chargée de les éplucher des crises d'asthme d'une telle violence qu'elle fut obligée de finir par s'en aller. Du côté de chez Swann
In this morning's Le Figaro, an article on satisfaction at the workplace (un article sur la satisfaction au travail): among 17 countries with developed economies, France was ranked last. I shall not analyze this sad state of French economy, but my life in America taught me that there the most desirable place is at your desk, or your machine, at work with your colleagues. When here you are better off on vacation, or in a conversation around a table with a beef in jelly served (or duck that will be served next March 10, and 23, at the Café de la mairie, during the next "Dînez avec Proust"). Class warfare afterthoughts, individualism, unbearable small minded chieftains, the disdain of managers and the sheepish expectations of their workers, who love authoritarism, while mocking it, all this exquisite national features, are a real source of inspiration for the great writer but for a government who wants to reform, what a headache!
Although, when her grandson had a slight cold in his head, she would set off at night, even if she were ill also, instead of going to bed, to see whether he had everything that he wanted, covering ten miles on foot before daybreak so as to be in time to begin her work, this same love for her own people, and her desire to establish the future greatness of her house on a solid foundation reacted, in her policy with regard to the other servants, in one unvarying maxim, which was never to let any of them set foot in my aunt's room; indeed she shewed a sort of pride in not allowing anyone else to come near my aunt, preferring, when she herself was ill, to get out of bed and to administer the Vichy water in person, rather than to concede to the kitchen-maid the right of entry into her mistress's presence. There is a species of hymenoptera, observed by Fabre, the burrowing wasp, which in order to provide a supply of fresh meat for her offspring after her own decease, calls in the science of anatomy to amplify the resources of her instinctive cruelty, and, having made a collection of weevils and spiders, proceeds with marvellous knowledge and skill to pierce the nerve-centre on which their power of locomotion (but none of their other vital functions) depends, so that the paralysed insect, beside which her egg is laid, will furnish the larva, when it is hatched, with a tamed and inoffensive quarry, incapable either of flight or of resistance, but perfectly fresh for the larder: in the same way Françoise had adopted, to minister to her permanent and unfaltering resolution to render the house uninhabitable to any other servant, a series of crafty and pitiless stratagems. Many years later we discovered that, if we had been fed on asparagus day after day throughout that whole season, it was because the smell of the plants gave the poor kitchen-maid, who had to prepare them, such violent attacks of asthma that she was finally obliged to leave my aunt's service. Swann's Way