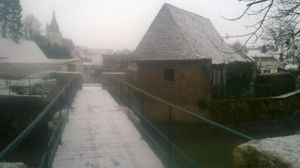 Quelle joie de retrouver plaques de verglas, bise glaciale qui s'engouffre dans les stations de métro (surtout dans l'escalier d'une sortie à Louvre-Rivoli), ciel gris plombé, un vrai hiver, ce qui démontre une fois de plus le poids immense des croyances (y compris les certitudes): dans ce cas la crainte d'un réchauffement de la planète, ennemi de nos hivers d'antan. Une amie de la région d'Illiers Combray, Françoise Trubert, a compris mon angoisse et a posté sur facebook cette photo très récente publiée par le syndicat d'initiative.
avant que j'entrasse souhaiter le bonjour à ma tante on me faisait attendre un instant dans la première pièce où le soleil, d'hiver encore, était venu se mettre au chaud devant le feu, déjà allumé entre les deux briques et qui badigeonnait toute la chambre d'une odeur de suie, en faisait comme un de ces grands « devants de four » de campagne, ou de ces manteaux de cheminée de châteaux, sous lesquels on souhaite que se déclarent dehors la pluie, la neige, même quelque catastrophe diluvienne pour ajouter au confort de la réclusion la poésie de l'hivernage. Du côté de chez Swann, Combray
What a joy to experience again black ice, freezing wind engulfing subway stations (especially one exit staircase at Louvre-Rivoli), lead grey skies, a true winter, demonstrating once again the huge impact of beliefs (certitudes included): in that case fearing global warming, the enemy of our past winters. A friend living near Illiers-Combray, Françoise Trubert, understood my anguish and has posted on Facebook a very recent photograph published by the local tourism office.
before I went in to wish my aunt good day I would be kept waiting a little time in the outer room, where the sun, a wintry sun still, had crept in to warm itself before the fire, lighted already between its two brick sides and plastering all the room and everything in it with a smell of soot, making the room like one of those great open hearths which one finds in the country, or one of the canopied mantelpieces in old castles under which one sits hoping that in the world outside it is raining or snowing, hoping almost for a catastrophic deluge to add the romance of shelter and security to the comfort of a snug retreat; Swann's Way, Combray