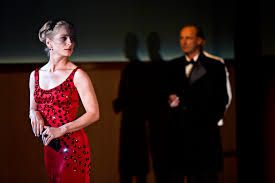 Si vous parlez polonais, ou si vous aimez lire les sous-titres en français, et si vous aimez aller à Clermont Ferrand, vous allez regretter de ne pas avoir vu, de Krzysztof (surtitre: Christophe, je suppose) Warlikowski, une adaptation de "A la recherche du temps perdu", Excellente critique de Philippe Chevilley
Je regrette mais si la comédie "Les Français" (un sujet qui me tient à coeur et sur lequel je me suis exprimée pendant 25 ans en Amérique, sous le feu des questions) repasse près d'où je me trouve, j'irai la voir.
Mais enfin chez Saint-Loup, de quelque façon que les défauts des parents se fussent combinés en une création nouvelle de qualités, régnait la plus charmante ouverture d'esprit et de coeur. Et alors, il faut bien le dire à la gloire immortelle de la France, quand ces qualités-là se trouvent chez un pur Français, qu'il soit de l'aristocratie ou du peuple, elles fleurissent – s'épanouissent serait trop dire car la mesure y persiste et la restriction – avec une grâce que l'étranger, si estimable soit-il, ne nous offre pas. Les qualités intellectuelles et morales, certes les autres les possèdent aussi, et s'il faut d'abord traverser ce qui déplaît et ce qui choque et ce qui fait sourire, elles ne sont pas moins précieuses. Mais c'est tout de même une jolie chose et qui est peut-être exclusivement française, que ce qui est beau au jugement de l'équité, ce qui vaut selon l'esprit et le coeur, soit d'abord charmant aux yeux, coloré avec grâce, ciselé avec justesse, réalise aussi dans sa matière et dans sa forme la perfection intérieure. Je regardais Saint-Loup, et je me disais que c'est une jolie chose quand il n'y a pas de disgrâce physique pour servir de vestibule aux grâces intérieures, et que les ailes du nez soient délicates et d'un dessin parfait comme celles des petits papillons qui se posent sur les fleurs des prairies, autour de Combray ; et que le véritable opus francigenum, dont le secret n'a pas été perdu depuis le XIIIe siècle, et qui ne périrait pas avec nos églises, ce ne sont pas tant les anges de pierre de Saint-André-des-Champs que les petits Français, nobles, bourgeois ou paysans, au visage sculpté avec cette délicatesse et cette franchise restées aussi traditionnelles qu'au porche fameux, mais encore créatrices. Le côté de Guermantes
If you speak Polish, or if you like French sub-titles, if you like to visit Clermont Ferrand, you will regret to have missed, by Krzysztof (subtitle: Christopher, I assume) Warlikowski, an adaptation de "A la recherche du temps perdu", Excellente critique de Philippe Chevilley
I missed it but if the comedy "Les Français" (a topic I have debated, answering endless questions, for my 25 years spent in America), is staged in my neighborhood, I will go.
But in Saint-Loup, when all was said, however the faults of his relatives might be combined in a fresh creation of character, there reigned the most charming openness of mind and heart. And whenever (it must be frankly admitted, to the undying glory of France) these qualities are found in a man who is purely French, be he noble or plebeian, they flower — flourish would be too strong a word, for a sense of proportion persists and also a certain restraint — with a grace which the foreign visitor, however estimable he may be, does not present to us. Of these intellectual and moral qualities others undoubtedly have their share, and if we have first to overcome what repels us and what makes us smile they remain no less precious. But it is all the same a pleasant thing, and one which is perhaps exclusively French that what is fine from the standpoint of equity, what is of value to the heart and mind should be first of all attractive to the eyes, charmingly coloured, consummately chiselled, should express outwardly as well in substance as in form an inward perfection. I studied Saint-Loup's features and said to myself that it is a thing to be glad of when there is no lack of bodily grace to prepare one for the graces within, and when the winged nostrils are spread as delicately and with as perfect a design as the wings of the little butterflies that hover over the field-flowers round Combray; and that the true opus francigenum, the secret of which was not lost in the thirteenth century, the beauty of which would not be lost with the destruction of our churches, consists not so much in the stone angels of Saint-André-des-Champs as in the young sons of France, noble, citizen or peasant, whose faces are carved with that delicacy and boldness which have remained as traditional there as on the famous porch, but are creative still as well. The Guermantes Way