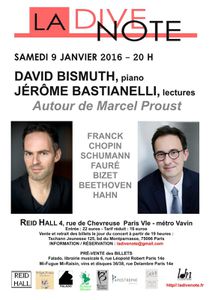 En attendant de jouer M. Verdurin au "Dîner à la Raspelière" au café de la Mairie, place St Sulpice, le lundi 18 janvier (entouré d'autres proustiens enragés ou en herbe), Jérôme Bastianelli se produira, avec David Bismuth au piano, ce samedi 9 janvier, lors d'un concert organisé par LA DIVE NOTE. Dans la salle du café, aussi bien que dans la salle de concert REID HALL, sera présente Marie-Pierre, une fidèle des mercredis de Proustpourtous, qui professe des idées bien étranges sur "le petit pan de mur jaune", mais samedi, affairée par l'organisation de cet évènement, dans le cadre magnifique de Reid Hall, elle n'en dira rien.
Extrait de "Dîner à la Raspelière" lui-même extrait de Sodome et Gomorrhe:
SCÈNE II
Arrivée à La Raspelière, M. Verdurin accueille les invités
M.VERDURIN: J'ai bien fait de mettre un smoking, puisque j'ai des hommes si chic. MARCEL: Je suis désolé de ne m'être pas habillé... M.VERDURIN: Mais voyons, c'est parfait. Ici ce sont des diners de camarades. Je vous offrirais bien de vous prêter un de mes smokings mais il ne vous irait pas. Brichot, en pénétrant dans le vestibule, serre la main de M. Verdurin avec émotion, en guise de condoléances pour la mort du pianiste. Le Patron ne fait aucun commentaire. MARCEL: Quel pays splendide! M. VERDURIN: Ah! tant mieux, et vous n'avez rien vu, nous vous le montrerons. Pourquoi vous ne viendriez pas habiter quelques semaines ici? l'air est excellent. BRICHOT (craignant que sa poignée de main n'a pas été comprise): Hé bien ! ce pauvre Dechambre ! (à mi-voix, de crainte que Mme Verdurin ne fût pas loin) M.VERDURIN (allègrement): C'est affreux. BRICHOT: Si jeune. M.VERDURIN (agacé): Hé bien oui, mais qu'est-ce que vous voulez, nous n'y pouvons rien, ce ne sont pas nos paroles qui le ressusciteront, n'est-ce pas ? Surtout, au nom du ciel, n'allez pas parler de Dechambre à Mme Verdurin ! Vous savez qu'elle cache beaucoup ce qu'elle ressent, mais elle a une véritable maladie de la sensibilité. Non, mais je vous jure, quand elle a appris que Dechambre était mort, elle a presque pleuré (d'un ton ironique). Si vous lui en parlez elle va encore se rendre malade. C'est déplorable, trois semaines après sa bronchite. Dans ces cas-là c'est moi qui suis le garde-malade. Affligez-vous sur le sort de Dechambre dans votre cœur tant que vous voudrez. Pensez-y mais n'en parlez pas. Tenez, voilà Cottard, vous allez pouvoir lui demander. COTTARD (qui n'a pas entendu M. Verdurin) (à Brichot) : Surtout, motus devant Mme Verdurin. BRICHOT (au Dr Cottard): Soyez sans crainte, ô Cottard, vous avez affaire à un sage, comme dit Théocrite. D'ailleurs, M. Verdurin a raison, à quoi servent nos plaintes? N'importe, c'est un grand talent qui disparait. M.VERDURIN: Comment, vous parlez encore de Dechambre? Écoutez (à Brichot), il ne faut d'exagération en rien. Ce n'est pas une raison parce qu'il est mort pour en faire un génie qu'il n'était pas. Il jouait bien, c'est entendu, il était surtout bien encadré ici ; transplanté, il n'existait plus. Ma femme s'en était engouée et avait fait sa réputation. Vous savez comme elle est. Je dirai plus, dans l'intérêt même de sa réputation il est mort au bon moment, cessez vos jérémiades dans cette casbah ouverte à tous les vents). Vous ne voulez tout de même pas nous faire crever tous parce que Dechambre est mort et quand depuis un an il était obligé de faire des gammes avant de donner un concert, pour retrouver momentanément, bien momentanément, sa souplesse. Du reste vous allez entendre ce soir, ou du moins rencontrer, quelqu'un qui est un autre artiste que Dechambre, un petit que ma femme a découvert (comme elle avait découvert Dechambre) : Morel. Il n'est pas encore arrivé. Il vient avec un vieil ami de sa famille qu'il a retrouvé et qui l'embête à crever, mais avec qui il aurait été obligé, pour ne pas avoir de plaintes de son père, de rester sans cela à Doncières, à lui tenir compagnie: le baron de Charlus. Ils entrent dans le salon. M. VERDURIN (prenant en plaisantant le bras de Marcel): Vous avez fait bon voyage ? MARCEL: Oui, M. brichot m'a appris des choses qui m'ont beaucoup intéressé. M.VERDURIN: Cela m'aurait étonné qu'il ne vous eût rien appris, c'est un homme si efface, qui parle si peu des choses qu'il sait. MARCEL: Il a l'air charmant! M.VERDURIN (sur un ton d'exagération et de réciter une leçon): Exquis, délicieux, pas pion pour un sou, fantaisiste, léger, ma femme l'adore, moi aussi! MME VERDURIN: J'entends la voiture qui revient. Espérons qu'elle les a trouvés. M.VERDURIN: Ah! Oui, les voici!
"Dinner at La Raspeliere", adapted from Cities of the Plain
SCENE II
Arriving at La Raspelière, greeted by the M. Verdurin
M.VERDURIN: I did well to put on a dinner-jacket, since I have such smart gentlemen in my party. MARCEL: I am sorry I didn't change... M.VERDURIN: Why, that's quite all right. We're all friends here. I should be delighted to offer you one of my own dinner-jackets, but it wouldn't fit you. Entering the hall, Brichot shakes hands with M. Verdurin. A handclasp full of emotion (for the pianist's death). No reaction from the host MARCEL: What a splendid scenery! M. VERDURIN: Ah! All the better, and you've seen nothing, we must take you round. Why not come and spend a week or two here, the air is excellent. BRICHOT (thinking his handclasp had not been understood): Ah! Poor Dechambre! (in an undertone, in case Mme.Verdurin was within earshot) M.VERDURIN (lightly): It is terrible. BRICHOT: So young. M.VERDURIN (Annoyed at being detained over these futilities): Why yes, of course, but what's to be done about it, it's no use crying over spilt milk, talking about him won't bring him back to life, will it? (jovial): Come along, my good Brichot, get your things off quickly. We have a bouillabaisse which mustn't be kept waiting. But, in heaven's name, don't start talking about Dechambre to Madame Verdurin. You know that she always hides her feelings, but she is quite morbidly sensitive. I give you my word, when she heard that Dechambre was dead, she almost cried (in a tone of profound irony). If you mention it to her, she will go and make herself ill again. It is deplorable, three weeks after her bronchitis. When that happens, it is I who have to be sick-nurse. You can understand that I have had more than enough of it. Grieve for Dechambre's fate in your heart as much as you like. Think of him, but do not speak about him. I was very fond of Dechambre, but you cannot blame me for being fonder still of my wife. Here's Cottard, now, you can ask him. BRICHOT (to Dr Cottard): Whatever you do. Have no fear, O Cottard, you are dealing with a sage, as Theocritus says. Besides, M. Verdurin is right, what is the use of lamentations. All the same, it is a great talent that has gone from the world. M.VERDURIN: What, are you still talking about Dechambre? Listen (to Brichot), nothing is gained by exaggeration. The fact of his being dead is no excuse for making him out a genius, which he was not. He played well, I admit, and what is more, he was in his proper element here; transplanted, he ceased to exist. My wife was infatuated with him and made his reputation. You know what she is. I will go farther, in the interest of his own reputation he has died at the right moment, he is done to a turn, as the demoiselles de Caen, grilled according to the incomparable recipe of Pampilles, are going to be, I hope (unless you keep us standing here all night with your jeremiads in this Kasbah exposed to all the winds of heaven). You don't seriously expect us all to die of hunger because Dechambre is dead, when for the last year he was obliged to practise scales before giving a concert; to recover for the moment, and for the moment only, the suppleness of his wrists. Besides, you are going to hear this evening, or at any rate to meet, for the rascal is too fond of deserting his art, after dinner, for the card-table, somebody who is a far greater artist than Dechambre, a youngster whom my wife has discovered (as she had discovered Dechambre, and Paderewski, and everybody else): Morel. He has not arrived yet, the devil. He is coming with an old friend of his family whom he has picked up, and who bores him to tears, but otherwise, not to get into trouble with his father, he would have been obliged to stay down at Doncières and keep him company: the Baron de Charlus. They enter the drawing-room. M. VERDURIN (taking jokingly Marcel's arm): Did you have a pleasant journey? MARCEL: Yes, M. Brichot told me things which interested me greatly. M.VERDURIN: I am surprised to hear that he told you anything, he is such a retiring man, and talks so little about the things he knows. MARCEL: He seems charming! M.VERDURIN (in an ironical, exaggerated tone): Exquisite, delicious, not the sort of man you meet every day, such a light, fantastic touch, my wife adores him, and so do I!