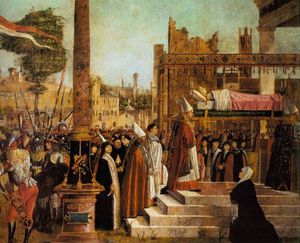 C'est sans doute grâce à une lecture très attentive que j'ai pu abréger "la Recherche", j'en ai de beaux restes, malgré une mémoire assez moyenne:
Une heure est venue pour moi où quand je me rappelle ce baptistère, devant les flots du Jourdain où saint Jean immerge le Christ tandis que la gondole nous attendait devant la Piazzetta il ne m'est pas indifférent que dans cette fraiche pénombre, à côté de moi il y eût une femme drapée dans son deuil avec la ferveur respectueuse et enthousiaste de la femme âgée qu'on voit à Venise dans la Sainte Ursule de Carpaccio, et que cette femme aux joues rouges, aux yeux tristes, dans ses voiles noirs, et que rien ne pourra plus jamais faire sortir pour moi de ce sanctuaire doucement éclairé de Saint-Marc où je suis sûr de la retrouver parce qu'elle y a sa place réservée et immuable comme une mosaïque, ce soit ma mère. Albertine disparue
It is probably due to a very careful reading that I have been able to make an abridged version of "the Search". I still have some leftovers in spite of a very average memory!
A time has now come when, remembering the baptistery of St Mark's - contemplating the waters of the Jordan in which St John immerses Christ, while the gondola awaited us at the landing-stage of the Piazzetta - is no longer a matter of indifference to me that, beside me in that cool penumbra, there should have been a woman draped in her mourning with the respectful and enthousiastic fervour of the old woman in Carpaccio's St Ursula in the Accademia, and that that woman, with her red cheeks and sad eyes and in her black veils, whom nothing can ever remove from that softly lit sanctuary of St Mark's where I am always sure to find her because she has her place reserved there as immutably as a mosaic, should be my mother. The Fugitive