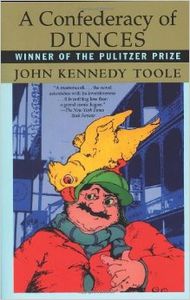 Ce roman,écrit par John Kennedy Toole, est le livre favori de ma fille Gigi (Une conjuration d'imbéciles en sa traduction française), et après avoir repoussé l'échéance, je suis en train de le lire, et j'avoue que c'est vraiment drôle. De plus, page 24 de l'édition Grove Press Books, 1980, je lis: [Ignatius, le héros, s'adressant à sa mère] : "You left your hat in the bar." "Oh, I sold it to that young man." "You sold it? Why? Did you ask me whether I wanted it to be sold? I was very attached to that hat." "I 'm sorry, Ignatius. I didn't know you liked it so much. You never said anything about it." "I had an unspoken attachment to it. It was a contact with my childhood, a link with the past." "But he gave me fifteen dollars, Ignatius." "Please, Don't talk about it anymore. The whole business is sacrilegious. Goodness knows what degenerate uses he will find for that hat. Do you have the fifteen dollars on you?"....."you have, after all, just sold a memento of my chidhood for thirty pieces of silver, so to speak."
Immédiatement je pensai à Proust, au narrateur qui avait donné son canapé à un bordel!
Je cessai du reste d'aller dans cette maison parce que, désireux de témoigner mes bons sentiments à la femme qui la tenait et avait besoin de meubles, je lui en donnai quelques-uns – notamment un grand canapé – que j'avais hérités de ma tante Léonie. Je ne les voyais jamais, car le manque de place avait empêché mes parents de les laisser entrer chez nous et ils étaient entassés dans un hangar. Mais dès que je les retrouvai dans la maison où ces femmes se servaient d'eux, toutes les vertus qu'on respirait dans la chambre de ma tante à Combray m'apparurent, suppliciées par le contact cruel auquel je les avais livrés sans défense ! J'aurais fait violer une morte que je n'aurais pas souffert davantage. Je ne retournai plus chez l'entremetteuse, car ils me semblaient vivre et me supplier, comme ces objets en apparence inanimés d'un conte persan, dans lesquels sont enfermées des âmes qui subissent un martyre et implorent leur délivrance. A l'ombre des jeunes filles en fleurs
I ceased moreover to go to this house because, anxious to present a token of my good-will to the woman who kept it and was in need of furniture, I had given her several pieces, notably a big sofa, which I had inherited from my aunt Léonie. I used never to see them, for want of space had prevented my parents from taking them in at home, and they were stored in a warehouse. But as soon as I discovered them again in the house where these women were putting them to their own uses, all the virtues that one had imbibed in the air of my aunt's room at Combray became apparent to me, tortured by the cruel contact to which I had abandoned them in their helplessness! Had I outraged the dead, I should not have suffered such remorse. I returned no more to visit their new mistress, for they seemed to me to be alive, and to be appealing to me, like those objects, apparently inanimate, in a Persian fairy-tale, in which are embodied human souls that are undergoing martyrdom and plead for deliverance. Within a Budding Grove
J'étais ravie, et comble du bonheur, p. 47, "And all the shutters are closed. Ignatius! It is still light outside." "My being is not without its Proustian elements."
YOUPIE! WHAOUH in English....