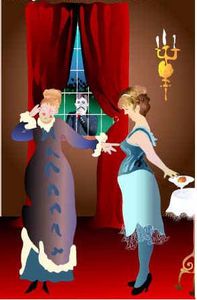 Mertcredi 23 seeptembre, Café de la Mairie, place St Sulpice, au 1er étage, 18h 30: Voici enfin un vrai mercredi à la Verdurin: je vous lirai la pièce que j'ai tirée de Sodome et Gomorrhe, et commencerai à attribuer les rôles.
UN DÎNER À LA RASPELIÈRE
« Quand les bourgeois invitent les aristocrates à dîner »
(Sodome et Gomorrhe)
adapté d'après l'œuvre de Marcel Proust
par Laurence Grenier
SCÈNE I
En train, en route pour La Raspelière (propriété que les Verdurin louent des Cambremer, et qui domine une baie normande)
Les personnages :
-Marcel, le narrateur, jeune homme qui va dîner chez les Verdurin pour la première fois.
-Dr Cottard, un professeur de médecine, ancien timide qui a pris beaucoup d'assurance, et fait de nombreux calembours d'un goût douteux. Membre du Petit Clan depuis toujours.
-la princesse Sherbatoff, russe très riche, mais sans relations, devenue la plus fidèle des fidèles du salon Verdurin, qu'elle fait semblant de fréquenter exclusivement parce qu'elle le veut et non parce qu'elle n'est pas bienvenue dans les salons aristocratiques.
-Ski, un artiste touche-à-tout, au nom polonais raccourci, ancien enfant prodige devenu très laid, mais qui a gardé les attitudes d'un chérubin.
-Saniette, membre du Petit Clan depuis le début. Il en avait été chassé par son cousin, puis l'avait réintégré. Très timide, bon, mais ruiné, il est le souffre-douleur des Verdurin, qui cependant le cajolent pour ne pas perdre une cible si pratique.
-Brichot, chapeau de paille, parapluie vert, lunettes bleues, professeur à la Sorbonne, excellent linguiste, devenu presqu'aveugle, porte de très gros verres de lunettes. Il considère que Mme Verdurin est sa meilleure amie ( elle l'a «sauvé» de deux maîtresses qui ne plaisaient pas). Le Petit Clan, dont il est un des membres « historiques » est las de l'étalage de son érudition, contrairement au narrateur dont il assouvit la passion pour les noms.
Tous les personnages sont en smoking, sauf Marcel qui est en veston.
Marcel, qui est monté à Balbec, se tient à la portière, de peur de ne pas rater Cottard, qui doit monter à la station de Graincourt-Saint-Vast, lors d'un arrêt très bref.
Le petit groupe fait de Ski, Brichot, Saniette et Cottard, s'engoufre dans le train, qu'ils ont failli rater.
COTTARD: Ah ! elle est bien bonne ! Un peu plus ! nom d'une pipe, c'est ce qui s'appelle arriver à pic ! (en clignant de l'œil)
Il présente Marcel au petit clan : Mme Cottard, Professeur Brichot, de la Sorbonne, notre ami Ski, un artiste de grand talent, Saniette, un ami fidèle…
BRICHOT : Mais est-ce que la princesse n'est pas dans le train ?
COTTARD : Non, non, la princesse a été reconduite jusqu'à Maineville par des invités de Mme Verdurin qui prenaient le train de Paris. Il ne serait même pas impossible que Mme Verdurin, qui avait à faire à Saint-Mars, fût avec elle ! Il s'agira d'ouvrir l'œil à Maineville, et le bon !Voyez-vous ça que nous ayons manqué le train, Mme Verdurin s'apercevant que les voitures revenaient sans nous : tableau ! Voilà une équipée qui n'est pas banale. Dites donc, Brichot, qu'est-ce que vous dites de notre petite escapade ?
BRICHOT : Par ma foi, en effet, si vous n'aviez plus trouvé le train, c'eût été, comme eût parlé feu Villemain, un sale coup pour la fanfare !
BRICHOT (à Marcel): Si ce sont vos débuts chez Mme Verdurin, monsieur, vous verrez qu'il n'y a pas de milieu où l'on sente mieux la « douceur de vivre », comme disait un des inventeurs du dilettantisme, du je m'en fichisme, de beaucoup de mots en « isme » à la mode chez nos snobinettes.
COTTARD: C'est un milieu charmant, vous trouverez un peu de tout, car Mme Verdurin n'est pas exclusive : des savants illustres comme Brichot, de la haute noblesse comme, par exemple, la princesse Sherbatoff, une grande dame russe, amie de la grande-duchesse Eudoxie qui même la voit seule aux heures où personne n'est admis. (en clignant de l'œil) : Vous voyez le genre de la maison, vous comprenez ce que je veux dire ? La princesse sera à Maineville. Elle voyagera avec nous.
SANIETTE (qui fait semblant d'avoir pris l'air) : De quoi parliez-vous ? BRICHOT: Je citais à Monsieur un mot que vous connaissez bien, de celui qui est à mon avis le premier des "fins de siècle" (du siècle XVIII s'entend), le prénommé Charles-Maurice, abbé de Périgord. Il avait commencé par promettre d'être un très bon journaliste. Mais il tourna mal, je veux dire qu'il devint ministre !
COTTARD: On doit toujours être sans nouvelles du violoniste. Il a sûrement été fourré au bloc, il n'y a pas d'autre explication de sa fugue. Ah ! dame, vous savez, dans le métier militaire, avec ces gaillards-là, il suffit d'un adjudant grincheux.
BRICHOT: Ce sera d'autant plus mortifiant pour Mme Verdurin, s'il lâche encore ce soir, que notre aimable hôtesse reçoit justement à dîner pour la première fois les voisins qui lui ont loué La Raspelière, le marquis et la marquise de Cambremer.
COTTARD: Ce soir, le marquis et la marquise de Cambremer ! Mais je n'en savais absolument rien. Sapristi, (se tournant vers Marcel), qu'est-ce que je vous ai dit : la princesse Sherbatoff, le marquis et la marquise de Cambremer. Vous voyez que nous nous mettons bien. N'importe, pour vos débuts, vous mettez dans le mille. Cela va être une chambrée exceptionnellement brillante. (se tournant vers Brichot) La Patronne doit être furieuse. Il n'est que temps que nous arrivions pour lui prêter main-forte.
BRICHOT (s'adressant à Marcel): En effet, je crois que Mme Verdurin, qui est très intelligente et apporte une grande coquetterie à l'élaboration de ses mercredis, ne tenait guère à recevoir ces hobereaux de grande lignée mais sans esprit.
COTTARD (avec un sourire rempli de paillardise): Ah ! nous verrons la marquise de Cambremer ?
Finally a real dinner à la Verdurin: I will read the play entirely extracted from Cities of the Plain, and will start to give the parts to the most interested...
SCENE I
On a train, en route for La Raspelière (an estate rent by the Cambremers to the Verdurins, situated on a height overlooking a bay, in Normandy)
The characters :
-Marcel, the narrator, young man who is invited for the first time at a Verdurins'dinner.
-Dr Cottard, Professor of Medicine; he used to be shy, but by now has become self confident, makes a lot of bad plays on words. Old member of the little clan.
-Princess Sherbatoff, old and ugly, dressed up, very rich Russian, has no society connections, has become the most faithful or the Verdurin salon, that she pretends to attend only because she wishes and not because she is, in truth, not welcome in the aristocratic salons.
-Ski, a Jack-of-all-trades artist, sculptor, with a shortened polish name, has been and infant prodigy. Now ugly, he has kept the mannerisms of a cherub.
-Saniette, member of the little clan since the beginning. He had been expelled because of a cousin, but later was reinstated. Very shy, generous, but ruined by his good heart, he is the Verdurins' whipping boy, but is cajoled by them, who don't want to loose such a convenient scapegoat.
-Brichot, (straw hat, green umbrella, blue spectacles) Sorbonne professor, excellent linguist, wearing very thick glasses (he barely sees). He considers Mme Verdurin as his best friend (she has "saved" him from two mistresses whom Mme Verdurin disapproved of). The little clan, of which he is an "historic" member, is tired of his erudition, unlike the narrator who has a passion for names and their origins.
All men wear tuxedos, but for Marcel, who wears a suit.
Marcel, who boarded at the Balbec station, stands at the carriage door, in fear of missing Cottard, who is supposed to get on at Graincourt-Saint-Vast, during a very short train stop..
The small group, made of Ski, Brichot, Saniette and Cottard, rushes in the train that they barely caught.
COTTARD: Ah! That was a good one! A minute later! 'Pon my soul, that's what they call arriving in the nick of time!" (he adds, with a wink). He introduces Marcel to the other members of the little clan. BRICHOT: But isn't the Princess on the train? COTTARD: No, no, the Princess went over to Maineville with some of Mme Verdurin's guests who were taking the Paris train. It is within the bounds of possibility that Mme Verdurin, who had some business at Saint-Mars, may be with her! In that case, she will be coming with us, and we shall all travel together, which will be delightful. We shall have to keep our eyes skinned at Maineville and see what we shall see! Oh, but that's nothing, you may say that we came very near to missing the bus. When I saw the train I was dumbfounded. That's what is called arriving at the psychological moment. Can't you picture us missing the train, Mme. Verdurin seeing the carriages come back without us: Tableau! That would be a pretty good joke, wouldn't it? Now then, Brichot, what have you to say about our little escapade? BRICHOT: Upon my soul, why, yes, if you had found the train gone, that would have been what the late Villemain used to call a wipe in the eye! (Cottard makes a farmer, who had entered the compartment, with a third class ticket because of the full train, get out, after having called the station master . Saniette, pained by this scene, leaves for the bathroom.)
BRICHOT: (addressing Marcel) If this is your first appearance at Mme Verdurin's, Sir, you will find that there is no place where one feels more the 'amenities of life,' to quote one of the inventors of dilettantism, of pococurantism, of all sorts of words in —ism that are in fashion among our little snobbesses, I refer to M. le Prince de Talleyrand. Ah, now that is a man—to whom we take off our hats. He is an ancestor. COTTARD: It is a charming house, you will find a little of everything, for Mme Verdurin is not exclusive, great scholars like Brichot, the high nobility, such as the Princess Sherbatoff, a great Russian lady, a friend of the Grand Duchess Eudoxie, who even sees her alone at hours when no one else is admitted. The Princess will be at Maineville. She will be coming with us. But I shall not introduce you to her at once. It will be better to leave that to Mme. Verdurin. Unless I find a loophole. Then you can rely on me to take the bull by the horns. SANIETTE: What were you saying? (pretending to have gone out to take the air). BRICHOT: I was quoting to this gentleman a saying, which you will remember, of the man who, to my mind, is the first of the fins-de-siècle (of the eighteenth century, that is), by name Charles Maurice, Abbé de Perigord. He began by promising to be an excellent journalist. But he made a bad end, by which I mean that he became a Minister! Life has these tragedies. A far from scrupulous politician to boot who, with the lofty contempt of a thoroughbred nobleman, did not hesitate to work in his time for the King of Prussia, there are no two ways about it, and died in the skin of a 'Left Centre.' At Saint-Pierre-des-Ifs they are joined by a glorious girl. She lits a cigarette, "Do you mind a little fresh air, Sir?" opens the window. Marcel would love to invite her at the Verdurins, but she gets off the train. COTTARD: Still no news, I suppose, of the violinist. He's certain to have been shoved into the guard-room, there's no other explanation of his desertion. Gad! In soldiering, you know, with those fellows, it only needs a bad-tempered serjeant. BRICHOT: It will be all the more mortifying for Mme Verdurin, if he fails again this evening, because our kind hostess has invited to dinner for the first time the neighbours from whom she has taken la Raspelière, the Marquis and Marquise de Cambremer. COTTARD: This evening, the Marquis and Marquise de Cambremer! But I knew absolutely nothing about it! Naturally, I knew like everybody else that they would be coming one day, but I had no idea that it was to be so soon. Sapristi!, turning to Marcel, "what did I tell you? The Princess Sherbatoff, the Marquis and Marquise de Cambremer. You see that we move in good company. However, as it's your first appearance, you'll be one of the crowd. It is going to be an exceptionally brilliant gathering. And, turning to Brichot: The Mistress will be furious. It is time we appeared to lend her a hand. BRICHOT (to Marcel): Indeed, I fancy that Mme Verdurin, who is highly intelligent and takes infinite pains in the elaboration of her Wednesdays, was by no means anxious to see these bumpkins of ancient lineage but scanty brains. She could not bring herself to invite the dowager Marquise, but has resigned herself to having the son and daughter-in-law COTTARD: Ah! We are to see the Marquise de Cambremer? (The title Marquise suggested to him fantastic thoughts of gallantry).