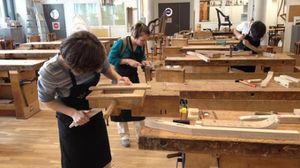 En route pour mon mercredi proust-pour-tous au café de la mairie, place St Sulpice, bus 86, je me retrouvai à moitié coincée par la porte de sortie qui s'ouvre en accordéon. Nous étions deux dans cette posture inconfortable, prélude à une conversation très sympathique: Jenny, une jeune femme souriante et naturelle rentrait de l'Ecole Boulle, où elle enseigne l'ébénisterie! ça m'a bluffée, et alors qu'elle me décrivait les exercices qu'elle faisait faire à ses élèves, pour en arriver à leur projet libre, un meuble de leur choix, je pensais au siège suédois de Mme Verdurin.
Mme Verdurin était assise sur un haut siège suédois en sapin ciré, qu'un violoniste de ce pays lui avait donné et qu'elle conservait, quoiqu'il rappelât la forme d'un escabeau et jurât avec les beaux meubles anciens qu'elle avait, mais elle tenait à garder en évidence les cadeaux que les fidèles avaient l'habitude de lui faire de temps en temps, afin que les donateurs eussent le plaisir de les reconnaître quand ils venaient. Aussi tâchait-elle de persuader qu'on s'en tînt aux fleurs et aux bonbons, qui du moins se détruisent ; mais elle n'y réussissait pas et c'était chez elle une collection de chauffe-pieds, de coussins, de pendules, de paravents, de baromètres, de potiches, dans une accumulation de redites et un disparate d'étrennes. Du côté de chez Swann
En route to my usual Wednesday proust-pour-tous meeting, at café de la mairie, place St Sulpice, on the bus 86, I found myself stuck behind the pleated exit door. We were two in this uncomfortable posture, prelude to a very lively conversation: Jenny a young, smiling, natural looking woman, was coming from the famous Ecole Boulle, where she teaches cabinet making! I was enthralled by her stories and the exercises she gives to her students to, in the end, let them make from a to z a piece of furniture of their choice. I was thinking of Mme Verdurin's Swedish chair.
Mme. Verdurin was sitting upon a high Swedish chair of waxed pine-wood, which a violinist from that country had given her, and which she kept in her drawing-room, although in appearance it suggested a school 'form,' and 'swore,' as the saying is, at the really good antique furniture which she had besides; but she made a point of keeping on view the presents which her 'faithful' were in the habit of making her from time to time, so that the donors might have the pleasure of seeing them there when they came to the house. She tried to persuade them to confine their tributes to flowers and sweets, which had at least the merit of mortality; but she was never successful, and the house was gradually filled with a collection of foot-warmers, cushions, clocks, screens, barometers and vases, a constant repetition and a boundless incongruity of useless but indestructible objects. Swann's Way