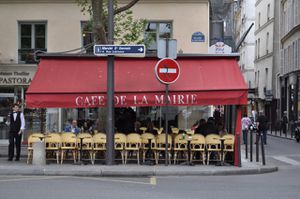 J'organise bientôt un dîner à la maison, et je me demande comment je vais mélanger les invités, ma préférence se portant sur une variété de personnes, auxquelles il faut trouver un point commun: l'âge, la profession, l'origine sociale, le sexe? Ayant au cours de ma vie essuyé quelques échecs retentissants, peuplés d'invités qui n'avaient rien à dire, d'un mari qui faisait la tête, d'un retardataire excessif, de gaffeurs, d'amis éméchés qui ne faisaient rire qu'eux-mêmes, de plats ratés loués par des hypocrites, des dîners où j'avais sommeil, qui n'en finissaient pas, qui me mettaient en colère, mais m'obligeaient à garder le sourire... Pourtant le mélange idéal, je le retrouve pendant mes mercredis, grâce à un puissant grand trait-d'union, un intérêt pour Proust, et pour moi la surprise de découvrir souvent des inconnus épatants....
Au reste, Swann ne se contentait pas de chercher dans la société telle qu'elle existe et en s'attachant aux noms que le passé y a inscrits et qu'on peut encore y lire, un simple plaisir de lettré et d'artiste, il goûtait un divertissement assez vulgaire à faire comme des bouquets sociaux en groupant des éléments hétérogènes, en réunissant des personnes prises ici et là. Ces expériences de sociologie amusante (ou que Swann trouvait telle) n'avaient pas sur toutes les amies de sa femme – du moins d'une façon constante – une répercussion identique. « J'ai l'intention d'inviter ensemble les Cottard et la duchesse de Vendôme », disait-il en riant à Mme Bontemps, de l'air friand d'un gourmet qui a l'intention et veut faire l'essai de remplacer dans une sauce les clous de girofle par du poivre de Cayenne. A l'ombre des jeunes filles en fleurs
________________________________________________________________________________
PROCHAIN MERCREDI: le 22 JUILLET, CAFE DE LA MAIRIE, PLACE SAINT SULPICE, au 1er étage, à partir de 18h30.
_________________________________________________________________________________
I'll give soon a dinner party, and wonder whom I'll invite, a mix of persons of various styles and origins between whom I have to find a common ground: age, profession, class, gender? as I have endured during my life some resounding failures, dinners with boring guests, a difficult husband, silly jokes, self righteous bratty punks, dinners where I could not wait to go to bed, or for which I had served bad food, complimented by hypocrits... The right mix, I have found it in my Wednesdays, full of delicious people of all breeds, but all Proust's lovers.
But Swann went farther than this; not content with seeking in society, such as it was, when he fastened upon the names which, inscribed upon its roll by the past, were still to be read there, a simple artistic and literary pleasure, he indulged in the slightly vulgar diversion of arranging as it were social nosegays by grouping heterogeneous elements, bringing together people taken at hazard, here, there and everywhere. These experiments in the lighter side (or what was to Swann the lighter side) of sociology did not stimulate an identical reaction, with any regularity, that is to say, in each of his wife's friends."I'm thinking of asking the Cottards to meet the Duchesse de Vendôme," he would laughingly say to Mme. Bontemps, in the appetised tone of an epicure who has thought of, and intends to try the substitution, in a sauce, of cayenne pepper for cloves. Within a Budding Grove