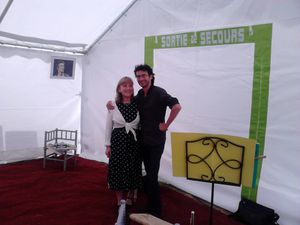 Un festival qui s'est merveilleusement déroulé en somme, ce week-end à Saint Valery en Somme https://www.facebook.com/#!/laurence.grenier.56 C'est amusant de "jouer" avec deux comédiens... je pensais à Rachel-quand-du-seigneur, qui n'avait vraiment pas plu!:
Cette période dramatique de leur liaison – et qui était arrivée maintenant à son point le plus aigu, le plus cruel pour Saint-Loup, car elle lui avait défendu de rester à Paris où sa présence l'exaspérait et l'avait forcé de prendre son congé à Balbec, à côté de sa garnison – avait commencé un soir chez une tante de Saint-Loup, lequel avait obtenu d'elle que son amie viendrait pour de nombreux invités dire des fragments d'une pièce symboliste qu'elle avait jouée une fois sur une scène d'avant-garde et pour laquelle elle lui avait fait partager l'admiration qu'elle éprouvait elle-même.
Mais quand elle était apparue, un grand lys à la main, dans un costume copié de l'« Ancilla Domini » et qu'elle avait persuadé à Robert être une véritable « vision d'art », son entrée avait été accueillie dans cette assemblée d'hommes de cercles et de duchesses par des sourires que le ton monotone de la psalmodie, la bizarrerie de certains mots, leur fréquente répétition avaient changés en fous-rires d'abord étouffés, puis si irrésistibles que la pauvre récitante n'avait pu continuer. Le lendemain la tante de Saint-Loup avait été unanimement blâmée d'avoir laissé paraître chez elle une artiste aussi grotesque. Un duc bien connu ne lui cacha pas qu'elle n'avait à s'en prendre qu'à elle-même si elle se faisait critiquer.
– Que diable aussi, on ne nous sort pas des numéros de cette force-là ! Si encore cette femme avait du talent, mais elle n'en a et n'en aura jamais aucun. Sapristi ! Paris n'est pas si bête qu'on veut bien le dire. La société n'est pas composée que d'imbéciles. Cette petite demoiselle a évidemment cru étonner Paris. Mais Paris est plus difficile à étonner que cela et il y a tout de même des affaires qu'on ne nous fera pas avaler.
Quant à l'artiste, elle sortit en disant à Saint-Loup :
– Chez quelles dindes, chez quelles garces sans éducation, chez quels goujats m'as-tu fourvoyée ? J'aime mieux te le dire, il n'y en avait pas un des hommes présents qui ne m'eût fait de l'oeil, du pied, et c'est parce que j'ai repoussé leurs avances qu'ils ont cherché à se venger. A l'ombre des jeunes filles en fleurs
A delicious theater festival in Saint Valery en Somme this week-end, and it was very amusing to lecture on Proust surrounded by two actors: https://www.facebook.com/#!/laurence.grenier.56 !:
This dramatic period of their connexion, which had now reached its most acute stage, the most cruel for Saint-Loup, for she had forbidden him to remain in Paris, where his presence exasperated her, and had forced him to spend his leave at Balbec, within easy reach of his regiment — had begun one evening at the house of one of Saint-Loup's aunts, on whom he had prevailed to allow his friend to come there, before a large party, to recite some of the speeches from a symbolical play in which she had once appeared in an 'advanced' theatre, and for which she had made him share the admiration that she herself professed.
But when she appeared in the room, with a large lily in her hand, and wearing a costume copied from the Ancilla Domini, which she had persuaded Saint-Loup was an absolute 'vision of beauty,' her entrance had been greeted, in that assemblage of clubmen and duchesses, with smiles which the monotonous tone of her chantings, the oddity of certain words and their frequent recurrence had changed into fits of laughter, stifled at first but presently so uncontrollable that the wretched reciter had been unable to go on. Next day Saint-Loup's aunt had been universally censured for having allowed so grotesque an actress to appear in her drawing-room. A well-known duke made no bones about telling her that she had only herself to blame if she found herself criticised. "Damn it all, people really don't come to see 'turns' like that! If the woman had talent, even; but she has none and never will have any. 'Pon my soul, Paris is not such a fool as people make out. Society does not consist exclusively of imbeciles. This little lady evidently believed that she was going to take Paris by surprise. But Paris is not so easily surprised as all that, and there are still some things that they can't make us swallow."
As for the actress, she left the house with Saint-Loup, exclaiming: "What do you mean by letting me in for those geese, those uneducated bitches, those dirty corner-boys? I don't mind telling you, there wasn't a man in the room who didn't make eyes at me or squeeze my foot, and it was because I wouldn't look at them that they were out for revenge." Within a Budding Grove