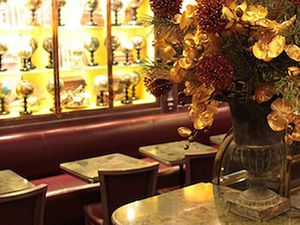 Hier dimanche, Jules et moi nous sommes balladés dans l'île Saint-Louis, nous rappelant avec admiration pourquoi Paris est considéré par beaucoup comme la plus belle ville du monde. Pas d'île Saint-Louis sans Berthillon, temple de la glace, connu dans le monde entier. Salon de thé à l'ambiance feutrée, désuette même (comme leurs pratiques commerciales: pas de cartes de crédit, mais les chèques acceptés). Mais aussitôt que nous arrivâmes à la maison, question de James: "Quels parfums avez-vous choisis?". Jules: poire, pamplemousse et vanille et moi: créole, chocolat pistache; au cas où ça vous intéresserait....
Maman demandait à mon père s'il avait trouvé la langouste bonne et si M. Swann avait repris de la glace au café et à la pistache. « Je l'ai trouvée bien quelconque, dit ma mère ; je crois que la prochaine fois il faudra essayer d'un autre parfum. » Du côté de chez Swann
Yesterday, Sunday, Jules and I went for a walk in the île Saint-Louis, and it reminded us with awe why Paris is considered by many as the most beautiful city in the world. But no île Saint-Louis without Berthillon, temple of ice cream. A café with a very cosy atmosphere, almost old fashion not only for its decor but also because credit cards were not accepted, just cash or a check! As soon as we reached home, James asked us what ice flavors we had ordered: pear, grapefruit and vanilla for Jules, chocolate pistachio and rhum/raisins for me; in case you wonder....
Mamma was asking my father if he had thought the lobster good, and whether M. Swann had had some of the coffee-and-pistachio ice. "I thought it rather so-so," she was saying; "next time we shall have to try another flavour." Swann's Way