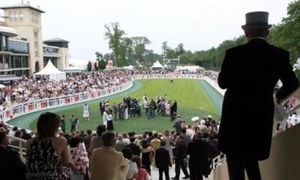 Une amie de Sceaux m'a décrit le dernier conseil d'administration d'une association culturelle à but non lucratif. Il était question de remplacer un membre récemment démissionaire (le pauvre, il était décédé), et une candidate extrêment active, infatigable représentante de ce groupe prestigieux, très extravertie et médiatique, avait posé sa candidature, de toute évidence la place était pour elle ! Au dernier moment un inconnu, ou presque, très discret, se présenta lui aussi, qui avait une formation de juriste, un notable, un homme dont on dit qu'il était posé "un vrai plus pour l'association". Que croyez-vous qu'il arriva? ce fut le discret qui gagna...
M. de Guermantes était le plus ancien vice-président du Jockey quand le président mourut. Certains membres du cercle qui n'ont pas de relations, et dont le seul plaisir est de donner des boules noires aux gens qui ne les invitent pas, firent campagne contre le duc de Guermantes qui, sûr d'être élu, et assez négligent quant à cette présidence qui était peu de chose relativement à sa situation mondaine, ne s'occupa de rien. On fit valoir que la duchesse était dreyfusarde (l'affaire Dreyfus était pourtant terminée depuis longtemps, mais vingt ans après on en parlait encore, et elle ne l'était que depuis deux ans), recevait les Rothschild, qu'on favorisait trop depuis quelque temps de grands potentats internationaux comme était le duc de Guermantes, à moitié allemand. La campagne trouva un terrain très favorable, les clubs jalousant toujours beaucoup les gens très en vue et détestant les grandes fortunes.
Celle de Chaussepierre n'était pas mince, mais personne ne pouvait s'en offusquer : il ne dépensait pas un sou, l'appartement du couple était modeste, la femme allait vêtue de laine noire. Folle de musique, elle donnait bien de petites matinées où étaient invitées beaucoup plus de chanteuses que chez les Guermantes. Mais personne n'en parlait, tout cela se passait sans rafraîchissements, le mari même absent, dans l'obscurité de la rue de la Chaise. À l'Opéra, Mme de Chaussepierre passait inaperçue, toujours avec des gens dont le nom évoquait le milieu le plus « ultra » de l'intimité de Charles X, mais des gens effacés, peu mondains. Le jour de l'élection, à la surprise générale, l'obscurité triompha de l'éblouissement : Chaussepierre, deuxième vice-président, fut nommé président du Jockey, et le duc de Guermantes resta sur le carreau, c'est-à-dire premier vice-président. Certes, être président du Jockey ne représente pas grand'chose à des princes de premier rang comme étaient les Guermantes. Mais ne pas l'être quand c'est votre tour, se voir préférer un Chaussepierre, à la femme de qui Oriane, non seulement ne rendait pas son salut deux ans auparavant, mais allait jusqu'à se montrer offensée d'être saluée par cette chauve-souris inconnue, c'était dur pour le duc. Il prétendait être au-dessus de cet échec, assurant, d'ailleurs, que c'était à sa vieille amitié pour Swann qu'il le devait. En réalité, il ne décolérait pas.
Chose assez particulière, on n'avait jamais entendu le duc de Guermantes se servir de l'expression assez banale : « bel et bien » ; mais depuis l'élection du Jockey, dès qu'on parlait de l'affaire Dreyfus, « bel et bien » surgissait : « Affaire Dreyfus affaire Dreyfus, c'est bientôt dit et le terme est impropre ; ce n'est pas une affaire de religion, mais bel et bien une affaire politique. » Cinq ans pouvaient passer sans qu'on entendît « bel et bien » si, pendant ce temps, on ne parlait pas de l'affaire Dreyfus, mais si, les cinq ans passés, le nom de Dreyfus revenait, aussitôt « bel et bien » arrivait automatiquement. Le duc ne pouvait plus, du reste, souffrir qu'on parlât de cette affaire « qui a causé, disait-il, tant de malheurs », bien qu'il ne fût, en réalité, sensible qu'à un seul : son échec à la présidence du Jockey. La prisonnière
Recently a good friend from Sceaux told me the story of the last board meeting of a non profit cultural organization she participates in. On the agenda: the election of a new member of the board to replace a recently deceased director. An extremely active woman, devoted to the cause, a bit flamboyant, was candidate, sure to be elected. At the last minute an unknown retired man, exceedingly discreet, applied for that prestigious job. Guess who won? the unknown quantity...
M. de Guermantes had been the senior vice-president of the Jockey, when the president died. Certain members of the club who were not popular in society and whose sole pleasure was to blackball the men who did not invite them to their houses started a campaign against the Duc de Guermantes who, certain of being elected, and relatively indifferent to the presidency which was a small matter for a man in his social position, paid no attention. It was urged against him that the Duchess was a Dreyfusard (the Dreyfus case had long been concluded, but twenty years later people were still talking about it, and so far only two years had elapsed), and entertained the Rothschilds, that so much consideration had been shewn of late to certain great international magnates like the Duc de Guermantes, who was half German. The campaign found its ground well prepared, clubs being always jealous of men who are in the public eye, and detesting great fortunes.
Chaussepierre's own fortune was no mere pittance, but nobody could take offence at it; he never spent a penny, the couple lived in a modest apartment, the wife went about dressed in black serge. A passionate music-lover, she did indeed give little afternoon parties to which many more singers were invited than to the Guermantes. But no one ever mentioned these parties, no refreshments were served, the husband did not put in an appearance even, and everything went off quite quietly in the obscurity of the Rue de la Chaise. At the Opera, Mme. de Chaussepierre passed unnoticed, always among people whose names recalled the most 'die-hard' element of the intimate circle of Charles X, but people quite obsolete, who went nowhere. On the day of the election, to the general surprise, obscurity triumphed over renown: Chaussepierre, the second vice-president, was elected president of the Jockey, and the Duc de Guermantes was left sitting — that is to say, in the senior vice-president's chair. Of course, being president of the Jockey means little or nothing to Princes of the highest rank such as the Guermantes. But not to be it when it is your turn, to see preferred to you a Chaussepierre to whose wife Oriane, two years earlier, had not merely refused to bow but had taken offence that an unknown scarecrow like that should bow to her, this the Duke did find hard to endure. He pretended to be superior to this rebuff, asserting moreover that it was his long-standing friendship with Swann that was at the root of it. Actually his anger never cooled.
One curious thing was that nobody had ever before heard the Duc de Guermantes make use of the quite commonplace expression 'out and out,' but ever since the Jockey election, whenever anybody referred to the Dreyfus case, pat would come 'out and out.'"Dreyfus case, Dreyfus case, that's soon said, and it's a misuse of the term. It is not a question of religion, it's out and out a political matter." Five years might go by without your hearing him say 'out and out' again, if during that time nobody mentioned the Dreyfus case, but if, at the end of five years, the name Dreyfus cropped up, 'out and out' would at once follow automatically. The Duke could not, anyhow, bear to hear any mention of the case, "which has been responsible," he would say, "for so many disasters" albeit he was really conscious of one and one only; his own failure to become president of the Jockey. The Captive