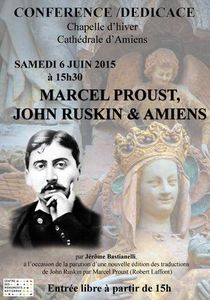 Samedi 6 juin Jérôme Bastianelli fera une conférence à Amiens, à laquelle j'assisterai avec quelques amis proustiens. Pourquoi tant d'enthousiasme? 1/ il paraît, d'après Jules, que le livre est splendide 2/ je le ferai dédicacer pour lui, qui regrette de ne pouvoir venir (un congrès à Sao Paulo...) 3/ j'aime énormément la cathédrale 4/ et c'est la seule vraie raison: Jérôme fait partie des gens agréables....
De simples gens élégants peuvent défendre leur porte trop envahie. Mais celle des Guermantes ne l'était pas. Un étranger n'avait presque jamais l'occasion de passer devant elle. Pour une fois que la duchesse s'en voyait désigner un, elle ne songeait pas à se préoccuper de la valeur mondaine qu'il apporterait, puisque c'était chose qu'elle conférait et ne pouvait recevoir. Elle ne pensait qu'à ses qualités réelles, Mme de Villeparisis et Saint-Loup lui avaient dit que j'en possédais. Et sans doute ne les eût-elle pas crus, si elle n'avait remarqué qu'ils ne pouvaient jamais arriver à me faire venir quand ils le voulaient, donc que je ne tenais pas au monde, ce qui semblait à la duchesse le signe qu'un étranger faisait partie des « gens agréables ». Le côté de Guermantes
SaturdayJune 6 Jérôme Bastianelli will give a lecture in Amiens. I'll be there with some proustian friends. Why such enthusiasm? 1/ according to Jules, the book is splendid 2/ I will get a signature for him, who regrets not to attend, due to a convention in Sao Paulo... 3/ I love the Amiens cathedral 4/ but the only decisive reason is that Jérôme may be counted among 'nice people'...
People who are merely fashionable may set a guard upon doors which are too freely invalided. But the Guermantes door was not that. Hardly ever did a stranger have occasion to pass by it. If, for once in a way, the Duchess had one pointed out to her, she never dreamed of troubling herself about the social increment that he would bring, since this was a thing that she conferred and could not receive. She thought only of his real merits. Both Mme. de Villeparisis and Saint-Loup had testified to mine Doubtless she might not have believed them if she had not at the same time observed that they could never manage to secure me when they wanted me, and therefore that I attached no importance to worldly things, which seemed to the Duchess a sign that the stranger was to be numbered among what she called 'nice people.' The Guermantes Way