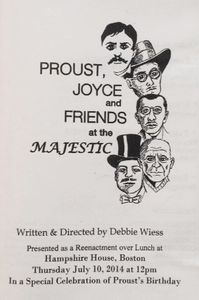 8. Nomme 3 choses que toi et moi on semble avoir en commun.
Sans hésiter c'est une affaire qui roule entre le narrateur et la marquise de Cambremer, la règle des 3 adjectifs!
C'était l'époque où les gens bien élevés observaient la règle d'être aimables et celle dite des trois adjectifs. Mme de Cambremer les combinait toutes les deux. Un adjectif louangeux ne lui suffisait pas, elle le faisait suivre (après un petit tiret) d'un second, puis (après un deuxième tiret) d'un troisième. Mais ce qui lui était particulier, c'est que, contrairement au but social et littéraire qu'elle se proposait, la succession des trois épithètes revêtait, dans les billets de Mme de Cambremer, l'aspect non d'une progression, mais d'un diminuendo . Mme de Cambremer me dit, dans cette première lettre, qu'elle avait vu Saint–Loup et avait encore plus apprécié que jamais ses qualités «uniques — rares — réelles», et qu'il devait revenir avec un de ses amis (précisément celui qui aimait la belle-fille), et que, si je voulais venir, avec ou sans eux, dîner à Féterne, elle en serait «ravie — heureuse — contente». Peut-être était-ce parce que le désir d'amabilité n'était pas égalé chez elle par la fertilité de l'imagination et la richesse du vocabulaire que cette dame tenait à pousser trois exclamations, n'avait la force de donner dans la deuxième et la troisième qu'un écho affaibli de la première. Qu'il y eût eu seulement un quatrième adjectif, et de l'amabilité initiale il ne serait rien resté. Sodome et Gomorrhe, II,II
Je venais d'apercevoir, dans ma mémoire, penché sur ma fatigue, le visage tendre, préoccupé et déçu de ma grand-mère, telle qu'elle avait été ce premier soir d'arrivée; Sodome et Gomorrhe, II,I
__________________________________________________
Nouvelle/News:
DAVID SERERO va interpréter le rôle titre de MARCEL PROUST à New York dans une pièce de Debbie Wiess « Proust & Joyce à l'Hotel Majestic » .
Cette pièce sera jouée à l'ambassade de France le Jeudi 28 Juin 2015 à 19h. J'espère que David viendra nous dire un extrait/chantera un air d'opéra à l'hôtel Le Swann, 15 rue de Constantinople, Paris 8ème, avant sa représentation américaine.
_____________________________________________________________________
8. Name three things you and your partner appear to have in common.
Without any hesitation, it is a love affair between the narrator and the Marquise de Cambremer, the rule of the 3 adjectives!
It was the time when well-bred people observed the rule of affability and what was called the rule of the three adjectives. Mme. de Cambremer combined the two rules in one. A laudatory adjective was not enough for her, she followed it (after a little stroke of the pen) with a second, then (after another stroke), with a third. But, what was peculiar to herself was that, in defiance of the literary and social object at which she aimed, the sequence of the three epithets assumed in Mme. de Cambremer's notes the aspect not of a progression but of a diminuendo. Mme. de Cambremer told me in this first letter that she had seen Saint-Loup and had appreciated more than ever his 'unique — rare — real' qualities, that he was coming to them again with one of his friends (the one who was in love with her daughter-in-law), and that if I cared to come, with or without them, to dine at Féterne she would be 'delighted — happy — pleased.' Perhaps it was because her desire to be friendly outran the fertility of her imagination and the riches of her vocabulary that the lady, while determined to utter three exclamations, was incapable of making the second and third anything more than feeble echoes of the first. Add but a fourth adjective, and, of her initial friendliness, there would be nothing left. Cities of the Plain, II,II
I had just perceived, in my memory, bending over my weariness, the tender, preoccupied, dejected face of my grandmother, as she had been on that first evening of our arrival,Cities of the Plain, II,I