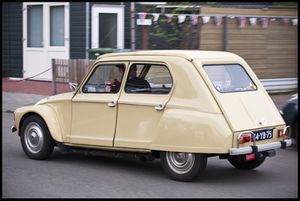 la dyane de Jeanjean
Juste avant Pâques, comme je voyais que les autoroutes allaient être encore surchargées, je pensai avec amusement, pas nostalgie, à mon "jules" de ma jeunesse pas le vrai jules (le dernier) mais celui de l'époque de mes vingt ans, Jean-jean, et comme nous voguions dans sa Dyane (une 2 cv carrée), nous avions été arrêtés par un gendarme qui nous dit "Beaucoup partent (sous-entendu en week-end), combien rentrerons?" je voulais écrire quelque chose de Mme Verdurin, mais j'étais en route pour le week end de Pâques...
- Vous, docteur, un savant, un esprit fort, vous venez naturellement le Vendredi saint comme un autre jour ? dit-elle à Cottard la première année, d'un ton assuré comme si elle ne pouvait douter de la réponse. Mais elle tremblait en attendant qu'il l'eût prononcée, car s'il n'était pas venu, elle risquait de se trouver seule.
– Je viendrai le Vendredi saint... vous faire mes adieux car nous allons passer les fêtes de Pâques en Auvergne.
– En Auvergne ? pour vous faire manger par les puces et la vermine, grand bien vous fasse ! Du côté de chez Swann
Just before Easter, as I saw on television the traffic jams on motorways, it reminded me of a week-end with Jean-jean, in our twenties, as a cop stopped us and before releasing us said: "Many are on the road but ho many will come back?" and I thought of Mme Verdurin:
Her uneasiness was kindled again in Holy Week: "Now you, Doctor, you're a sensible, broad-minded man; you'll come, of course, on Good Friday, just like any other day?" she said to Cottard in the first year of the little 'nucleus,' in a loud and confident voice, as though there could be no doubt of his answer. But she trembled as she waited for it, for if he did not come she might find herself condemned to dine alone.
"I shall come on Good Friday — to say good-bye to you, for we are going to spend the holidays in Auvergne."
"In Auvergne? To be eaten by fleas and all sorts of creatures! A fine lot of good that will do you!" Swann's way