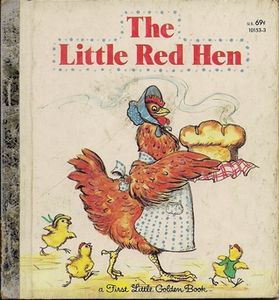 Dans un article du New York Times d'hier, de Nicholas Kristof: TO KILL A CHICKEN, j'ai appris, en plus des conditions déplorables dans lesquelles les volailles sont sacrifiées en Amérique (ce qui n'est pas le cas en Europe) que les poules étaient 1/ bonnes mères (cf le conte de la petite poule rouge), ça on le savait, mais 2/ qu'elles savaient compter au moins jusqu'à 6 ! Surtout en voyant le titre de l'article j'ai cru que l'on allait lire un extrait de Du côté de chez Swann...
Quand je fus en bas, elle était en train, dans l'arrière-cuisine qui donnait sur la basse-cour, de tuer un poulet qui, par sa résistance désespérée et bien naturelle, mais accompagnée par Françoise hors d'elle, tandis qu'elle cherchait à lui fendre le cou sous l'oreille, des cris de « sale bête ! sale bête ! », mettait la sainte douceur et l'onction de notre servante un peu moins en lumière qu'il n'eût fait, au dîner du lendemain, par sa peau brodée d'or comme une chasuble et son jus précieux égoutté d'un ciboire. Quand il fut mort, Françoise recueillit le sang qui coulait sans noyer sa rancune, eut encore un sursaut de colère, et regardant le cadavre de son ennemi, dit une dernière fois : « Sale bête ! » Je remontai tout tremblant ; j'aurais voulu qu'on mît Françoise tout de suite à la porte. Mais qui m'eût fait des boules aussi chaudes, du café aussi parfumé, et même... ces poulets ?...
mot repris par Mme Verdurin
– As-tu vu les façons que Swann se permet maintenant avec nous ? dit Mme Verdurin à son mari quand ils furent rentrés. J'ai cru qu'il allait me manger, parce que nous ramenions Odette. C'est d'une inconvenance, vraiment ! Alors, qu'il dise tout de suite que nous tenons une maison de rendez-vous ! Je ne comprends pas qu'Odette supporte des manières pareilles. Il a absolument l'air de dire : vous m'appartenez. Je dirai ma manière de penser à Odette, j'espère qu'elle comprendra.
Et elle ajouta encore un instant après, avec colère :
– Non, mais voyez-vous, cette sale bête ! employant sans s'en rendre compte, et peut-être en obéissant au même besoin obscur de se justifier – comme Françoise à Combray quand le poulet ne voulait pas mourir – les mots qu'arrachent les derniers sursauts d'un animal inoffensif qui agonise au paysan qui est en train de l'écraser.
Du côté de chez Swann
Yesterday in a New York Times article by Nicholas Kristof, I learned, besides the dreadful conditions in which American poultry is sacrified (unlike in Europe), that 1/ Hens are good mothers (eg the tale of The Little Red Hen), we knew it, 2/ they are able to count to at least 6 ! But above all when I saw that headline, I was expecting an excerpt from Swann's Way, how naive I am!
When I went in, I saw her in the back-kitchen which opened on to the courtyard, in process of killing a chicken; by its desperate and quite natural resistance, which Françoise, beside herself with rage as she attempted to slit its throat beneath the ear, accompanied with shrill cries of "Filthy creature! Filthy creature!" it made the saintly kindness and unction of our servant rather less prominent than it would do, next day at dinner, when it made its appearance in a skin gold-embroidered like a chasuble, and its precious juice was poured out drop by drop as from a pyx. When it was dead Françoise mopped up its streaming blood, in which, however, she did not let her rancour drown, for she gave vent to another burst of rage, and, gazing down at the carcass of her enemy, uttered a final "Filthy creature!"
I crept out of the kitchen and upstairs, trembling all over; I could have prayed, then, for the instant dismissal of Françoise. But who would have baked me such hot rolls, boiled me such fragrant coffee, and even — roasted me such chickens?
An expression also used by Mme. Verdurin:
"What do you think of the airs that Swann is pleased to put on with us?" Mme. Verdurin asked her husband when they had reached home. "I was afraid he was going to eat me, simply because we offered to take Odette back. It really is too bad, that sort of thing. Why doesn't he say, straight out, that we keep a disorderly house? I can't conceive how Odette can stand such manners. He positively seems to be saying, all the time, 'You belong to me!' I shall tell Odette exactly what I think about it all, and I hope she will have the sense to understand me." A moment later she added, inarticulate with rage: "No, but, don't you see, the filthy creature . . . " using unconsciously, and perhaps in satisfaction of the same obscure need to justify herself — like Françoise at Combray when the chicken refused to die — the very words which the last convulsions of an inoffensive animal in its death agony wring from the peasant who is engaged in taking its life. Swann's Way