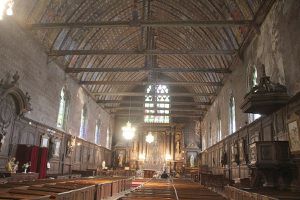 Eglise d'Illiers Combray
J'ai fait une scène à Jules par sms, alors qu'il était en route pour Toulouse. Voici sa réponse, envoyée de l'aéroport: Jules:"un zeste de vérité dans un océan de fadaises, quelle recette!" Moi: "les femmes aiment les fadaises", suivi, dans un esprit d'apaisement, de "comme je suis une femme et que j'aime ce que j'ai écrit, ce sont donc des fadaises.". Syllogisme facile, qui n'a pas épaté son destinataire.
Et parce que dans la surface de son visage rouge, comme si elle eût eu très chaud, je distinguais, diluées et à peine perceptibles, des parcelles d'analogie avec le portrait qu'on m'avait montré, parce que surtout les traits particuliers que je relevais en elle, si j'essayais de les énoncer, se formulaient précisément dans les mêmes termes : un grand nez, des yeux bleus, dont s'était servi le docteur Percepied quand il avait décrit devant moi la duchesse de Guermantes, je me dis : cette dame ressemble à Mme de Guermantes ; or la chapelle où elle suivait la messe était celle de Gilbert le Mauvais, sous les plates tombes de laquelle, dorées et distendues comme des alvéoles de miel, reposaient les anciens comtes de Brabant, et que je me rappelais être, à ce qu'on m'avait dit, réservée à la famille de Guermantes quand quelqu'un de ses membres venait pour une cérémonie à Combray ; il ne pouvait vraisemblablement y avoir qu'une seule femme ressemblant au portrait de Mme de Guermantes, qui fût ce jour-là, jour où elle devait justement venir, dans cette chapelle : c'était elle ! Du côté de chez Swann
I made a scene to Jules by sms, while he was taking a plane for Toulouse. Here is his answer: "a zest of truth in a ocean of rubbish, what a recipe!" I: "Women love rubbish", followed by, in a spirit of appeasement, by "as I am a woman, and as I love what I wrote, that is rubbish.". Easy syllogism, it didn't impress Jules, though.
because, more especially, the particular features which I remarked in this lady, if I attempted to catalogue them, formulated themselves in precisely the same terms:— a large nose, blue eyes, as Dr. Percepied had used when describing in my presence the Duchesse de Guermantes, I said to myself: "This lady is like the Duchesse de Guermantes." Now the chapel from which she was following the service was that of Gilbert the Bad; beneath its flat tombstones, yellowed and bulging like cells of honey in a comb, rested the bones of the old Counts of Brabant; and I remembered having heard it said that this chapel was reserved for the Guermantes family, whenever any of its members came to attend a ceremony at Combray; there was, indeed, but one woman resembling the portrait of Mme. de Guermantes who on that day, the very day on which she was expected to come there, could be sitting in that chapel: it was she! Swann's Way