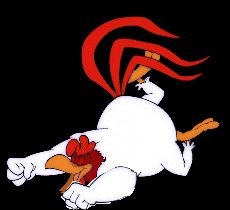 la poule qui rit
Ce n'est pas une obsession, mais je dois constater que cette façon bien humaine, bien française, de se cantonner dans son groupe et de n'accepter qu'à grand peine les nouveaux, fait des ravages, en ville comme au travail, et les déboires de mon fils James lorsqu'il a été engagé dans une société high tech pleine de techniciens apparemment très "cool", mais qui s'avérèrent rapidement faire partie d'un cercle de copains très fermé, ou mon expérience de remplacement d'un pharmacien biologiste, alors que je venais juste d'avoir mon diplôme, et où je m'étais fiée aux laborantines qui étaient sensées m'aider à me familiariser avec clientèle et pratiques du labo, pour me faire démolir aux yeux du patron à son retour. J'étais un corps étranger au groupe...
– Ah ! si Mme de Villeparisis devenait Mme de Norpois, je crois que notre cousin Gilbert en ferait une maladie, dit le général de Saint-Joseph.
– Le prince de Guermantes est charmant, mais il est, en effet, très attaché aux questions de naissance et d'étiquette, dit la princesse de Parme. J'ai été passer deux jours chez lui à la campagne pendant que malheureusement la princesse était malade. J'étais accompagnée de Petite (c'était un surnom qu'on donnait à Mme d'Hunolstein parce qu'elle était énorme). Le prince est venu m'attendre au bas du perron, m'a offert le bras et a fait semblant de ne pas voir Petite. Nous sommes montés au premier jusqu'à l'entrée des salons et alors là, en s'écartant pour me laisser passer, il a dit : « Ah ! bonjour, madame d'Hunolstein » (il ne l'appelle jamais que comme cela, depuis sa séparation), en feignant d'apercevoir seulement alors Petite, afin de montrer qu'il n'avait pas à venir la saluer en bas.
– Cela ne m'étonne pas du tout. Je n'ai pas besoin de vous dire, dit le duc qui se croyait extrêmement moderne, contempteur plus que quiconque de la naissance, et même républicain, que je n'ai pas beaucoup d'idées communes avec mon cousin. Madame peut se douter que nous nous entendons à peu près sur toutes choses comme le jour avec la nuit. Mais je dois dire que si ma tante épousait Norpois, pour une fois je serais de l'avis de Gilbert. Être la fille de Florimond de Guise et faire un tel mariage, ce serait, comme on dit, à faire rire les poules, que voulez-vous que je vous dise ? Ces derniers mots, que le duc prononçait généralement au milieu d'une phrase, étaient là tout à fait inutiles. Mais il avait un besoin perpétuel de les dire, qui les lui faisait rejeter à la fin d'une période s'ils n'avaient pas trouvé de place ailleurs. C'était pour lui, entre autre choses, comme une question de métrique. « Notez, ajouta-t-il, que les Norpois sont de braves gentilshommes de bon lieu, de bonne souche. » Le côté de Guermantes
It is not an obsession, but I have to admit that this habit, very human, very French, to restrict oneself to one's group, and to reject new comers, can be very damaging, espacially in a working setting, and the reactions of experienced technicians, employed by a hightech company, towards my newcomer son, when they were supposed to be cool, proved quickly that they were in fact members of a very closed circle of buddies, not ready to accept a foreign body.
"Ah! If Mme. de Villeparisis were to become Mme. de Norpois, I really believe our cousin Gilbert would take to his bed," said General de Monserfeuil. "The Prince de Guermantes is a charming man, but he is, really, very much taken up with questions of birth and manners," said the Princesse de Parme. "I went down to spend a few days with them in the country, when the Princess, unfortunately, was ill in bed. I was accompanied by Petite." (This was a nickname that was given to Mme. d'Hunolstein because she was enormously stout.) "The Prince came to meet me at the foot of the steps, and pretended not to see Petite. We went up to the first floor, to the door into the reception rooms, and then, stepping back to make way for me, he said: 'Oh, how d'ye do, Mme. d'Hunolstein?' (he always calls her that now, since her separation) pretending to have caught sight of Petite for the first time, so as to shew her that he had not come down to receive her at the foot of the steps." "That doesn't surprise me in the least. I don't need to tell you," said the Duke, who regarded himself as extremely modern, more contemptuous than anyone in the world of mere birth, and in fact a Republican, "that I have not many ideas in common with my cousin. Ma'am can imagine that we are just about as much agreed on most subjects as day and night. But I must say that if my aunt were to marry Norpois, for once I should be of Gilbert's opinion. To be the daughter of Florimond de Guise, and then to make a marriage like that would be enough, as the saying is, to make a cat laugh; what more can I say?" These last words, which the Duke uttered as a rule in the middle of a sentence, were here quite superfluous. But he felt a perpetual need to be saying them which made him postpone them to the end of a speech if he had found no place for them elsewhere. They were for him, among other things, almost a question of prosody. "Remember, though," he added, "that the Norpois are gallant gentlemen with a good place, of a good stock." The Guermantes Way