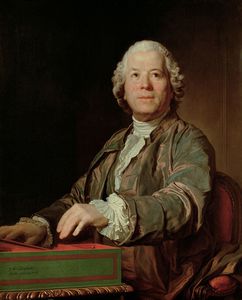 Portrait de Gluck par Duplessis
5. Quelle est la dernière fois que vous vous êtes chanté un refrain? et à quelqu'un d'autre?
Je n'ai pas la mémoire des chansons, et en ce moment, comme j'aime écouter le même air jusqu'à ce que j'en sois dégoûtée, j'ai dans la tête nuit et jour "J'ai perdu mon Eurydice" extrait d'Orphée et Eurydice de Glück, que j'écoute sur youtube, chanté par la Callas, ou Kathleen Ferrier. Je ne me rappelle que la première phrase, celle que je viens de citer. Quant à Jules, il a trouvé dans la chanson française une petite phrase qu'il me sert au moment opportun, un moment qui va et vient selon mon humeur querelleuse ou amoureuse. Cette petite phrase qui n'est même plus musicale, vient de faire un retour en force dans les média, grâce à Emmanuel Macron, et c'est "Je suis comme je suis". Si l'on combine "Je suis comme je suis" et "J'ai perdu mon Eurydice", on se dit: la question 5/36? "Bon dieu, mais c'est bien sûr"
J'entendis à l'étage au-dessus du nôtre des airs joués par une voisine. J'appliquais leurs paroles que je connaissais à Albertine et à moi et je fus rempli d'un sentiment si profond que je me mis à pleurer. C'était :
Hélas, l'oiseau qui fuit ce qu'il croit l'esclavage,
D'un vol désespéré revient battre au vitrage
et la mort de Manon :
Manon, réponds-moi donc, seul amour de mon âme,
Je n'ai su qu'aujourd'hui la bonté de ton coeur.
Puisque Manon revenait à Des Grieux, il me semblait que j'étais pour Albertine le seul amour de sa vie. Hélas, il est probable que si elle avait entendu en ce moment le même air, ce n'eût pas été moi qu'elle eût chéri sous le nom de Des Grieux, et si elle en avait eu seulement l'idée, mon souvenir l'eût empêchée de s'attendrir en écoutant cette musique qui rentrait pourtant bien, quoique mieux écrite et plus fine, dans le genre de celle qu'elle aimait. Pour moi je n'eus pas le courage de m'abandonner à la douceur, de penser qu'Albertine m'appelait « seul amour de mon âme » et avait reconnu qu'elle s'était méprise sur ce qu'elle « avait cru l'esclavage ». Je savais qu'on ne peut lire un roman sans donner à l'héroïne les traits de celle qu'on aime. Mais le dénouement a beau en être heureux, notre amour n'a pas fait un pas de plus et, quand nous avons fermé le livre, celle que nous aimons et qui est enfin venue à nous dans le roman ne nous aime pas davantage dans la vie. Albertine disparue
5. When did you last sing to yourself? To someone else?
I don't remember much of songs, but lately as I love to listen to the same tune until I feel like vomit, I have in my head, day and night, a tune from Gluck's "'Orphée et Eurydice" , sang on youtube by Maria Callas or Kathleen Ferrier. I sing only the begining "I have lost my Eurydice", while Jules quotes as often as my mood varies from quarelling to loving, a sentence from a famous old song "I am as I am", sentence that found a new fame lately, because it was quoted by the finance minister, Emmanuel Macron, in a television interview. But if you combine "I am as I am", and "I have lost my Eurydice", you wonder...
In the flat above ours, one of the neighbours was strumming songs. I applied their words, which I knew, to Albertine and myself, and was stirred by so profound a sentiment that I began to cry. The words were:
"Hélas, l'oiseau qui fuit ce qu'il croit l'esclavage,
d'un vol désespéré revient battre au vitrage"
and the death of Manon:
"Manon, réponds-moi donc,
Seul amour de mon âme, je n'ai su qu'aujourd'hui
la bonté de ton coeur."
Since Manon returned to Des Grieux, it seemed to me that I was to Albertine the one and only love of her life. Alas, it is probable that, if she had been listening at that moment to the same air, it would not have been myself that she would have cherished under the name of Des Grieux, and, even if the idea had occurred to her, the memory of myself would have checked her emotion on hearing this music, albeit it was, although better and more distinguished, just the sort of music that she admired. As for myself, I had not the courage to abandon myself to so pleasant a train of thought, to imagine Albertine calling me her 'heart's only love' and realising that she had been mistaken over what she 'had thought to be bondage.' I knew that we can never read a novel without giving its heroine the form and features of the woman with whom we are in love. But be the ending as happy as it may, our love has not advanced an inch and, when we have shut the book, she whom we love and who has come to us at last in its pages, loves us no better in real life. The Fugitive