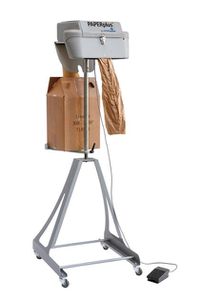 Hier au labo j'ai fait une madeleine, enfin presqu' une madeleine, en voyant dans le local qui sert aux expéditions,une machine qui déroule du papier kraft peu épais, papier qui sert à coincer les médicaments que l'on dispose dans un carton, moyen écologique et avantageux de remplacer les "cacahuètes" de polystyrène employées jusqu'à présent. Et le contact avec ce papier brun que l'on arrache, que l'on froisse, qui crisse dans la main, m'a rappelé en un éclair moi à quelques mois, qui passais des heures à déchirer du papier. Apparemment, même quand on me retrouvait avec une couche gorgée de pisse, je ne me plaignais pas, du moment que dans mon berceau on m'avait laissé du papier à déchirer, ce que je faisais avec rage et délices. Je suis sûre de n'avoir aucun souvenir de cette petite enfance, et en cela ma madeleine est trafiquée, tronquée, malgré sa précision: ce souvenir involontaire m'a été planté pour toujours par ma mère. Madeleine devenue Mado.
Il en est ainsi de notre passé. C'est peine perdue que nous cherchions à l'évoquer, tous les efforts de notre intelligence sont inutiles. Il est caché hors de son domaine et de sa portée, en quelque objet matériel (en la sensation que nous donnerait cet objet matériel), que nous ne soupçonnons pas. Cet objet, il dépend du hasard que nous le rencontrions avant de mourir, ou que nous ne le rencontrions pas. Du côté de chez Swann
Yesterday, I made a madeleine, or almost a madeleine, when in the area where we pack the medicinal products to be sent, a machine that supplies light brown paper to be used in replacement of polystyrene peanuts, a more ecologic and cheaper way of packing. the contact with that paper to be torn, creased, with a special sound, reminded me of when I was a baby in my crib, where I could spend hours without complaining, even in case of a diaper full of piss, as long as I had a stock of paper to tear apart, something I would do with rage and delight. This sudden memory was not a real madeleine, having no memory of such an early age, but it was planted forever by the tale of my mother. So was it a madeleine? a mado? a mad?
And so it is with our own past. It is a labour in vain to attempt to recapture it: all the efforts of our intellect must prove futile. The past is hidden somewhere outside the realm, beyond the reach of intellect, in some material object (in the sensation which that material object will give us) which we do not suspect. And as for that object, it depends on chance whether we come upon it or not before we ourselves must die. Swann's Way