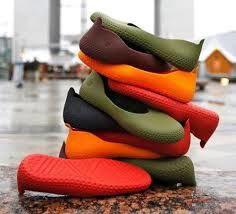 Ce matin, réveil à 6 heures par un voisin qui grattait son pare-brise, Jules se mit à me lire au lit des extraits de la Recherche concernant des femmes: un passage où il est question d'une paire de snow boots portées par le narrateur, sous l'oeil narquois du personnel qui l'entoure, et je me revois à Boston, où je venais de rencontrer mon futur ex, qui, voulant me faire visiter les environs de Cambridge où il avait un appartement donnant sur la Charles river, enfila des espèces de chaussures informes qu'il mit pardessus ses mocassins. J'avais envie de rire, mais me retins: j'aurais mieux fait de suivre mes restes d'instinct de Française coquette: j'aurais dû le planter là et reprendre le premier avion pour Paris: des snowboots!
Dans le vestibule où je demandai à un valet de pied mes snow-boots, que j'avais pris par précaution contre la neige, dont il était tombé quelques flocons vite changés en boue, ne me rendant pas compte que c'était peu élégant, j'éprouvai, du sourire dédaigneux de tous, une honte qui atteignit son plus haut degré quand je vis que Mme de Parme n'était pas partie et me voyait chaussant mes caoutchoucs américains. La princesse revint vers moi. « Oh ! quelle bonne idée, s'écria-t-elle, comme c'est pratique ! voilà un homme intelligent. Madame, il faudra que nous achetions cela », dit-elle à sa dame d'honneur, tandis que l'ironie des valets se changeait en respect et que les invités s'empressaient autour de moi pour s'enquérir où j'avais pu trouver ces merveilles. Le côté de Guermantes
This morning, awaken at 6 am by a neighbor scratching his windshield. Jules read loud some excerpts of the Search concerning women: a text where is mentionned a pair of snowboots that is ridiculed by the servants surrounding the narrator, and it reminded me of my ex husband, who, when I met him in Boston, decided to show me the landscapes around Cambridge, where he owned a condominium on the Charles river. To drive me in the cold, he put a pair of snow boots on. Then I was still clothes-conscious, and the view of his ridiculous shoes made me want to laugh, but I restrained myself. I was wrong, I should have left him with his piece of clothing and run to catch the first plane for Paris!
In the hall where I asked a footman for my snowboots which I had brought as a precaution against the snow, several flakes of which had already fallen, to be converted rapidly into slush, not having realised that they were hardly fashionable, I felt, at the contemptuous smile on all sides, a shame which rose to its highest pitch when I saw that Mme. de Parme had not gone and was watching me put on my American 'rubbers.' The Princess came towards me. "Oh! What a good idea," she exclaimed, "it's so practical! There's a sensible man for you. Madame, we shall have to get a pair of those," she went on to her lady in waiting, while the mockery of the footmen turned to respect and the other guests crowded round me to inquire where I had managed to find these marvels. The Guermantes Way