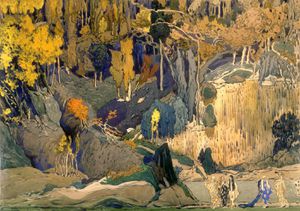 décor de Léon Bakst pour l'après-midi d'un faune
Comme un leitmotiv, une image qui me poursuivait, Mme Verdurin aux premières loges pour les ballets russes de Diaghilev.Pour illustrer avec le plus de précision possible cette vague vision, je regardai l'autre soir sur Arte un ballet sur la musique de Debussy l'après-midi d'un faune, chorégraphie de Nijinsky, décors de Léon Bakst. Il ne me manquaiit qu'une aigrette dans les cheveux.
Chez Mme Verdurin la troupe était parfaite, entraînée, le répertoire de premier ordre, il ne manquait que le public. Et depuis que le goût de celui-ci se détournait de l'art raisonnable et français d'un Bergotte et s'éprenait surtout de musiques exotiques, Mme Verdurin, sorte de correspondant attitré à Paris de tous les artistes étrangers, allait bientôt, à côté de la ravissante princesse Yourbeletief, servir de vieille fée Carabosse, mais toute-puissante, aux danseurs russes. Cette charmante invasion, contre les séductions de laquelle ne protestèrent que les critiques dénués de goût, amena à Paris, on le sait, une fièvre de curiosité moins âpre, plus purement esthétique, mais peut-être aussi vive que l'affaire Dreyfus. Là encore Mme Verdurin, mais pour un tout autre résultat mondain, allait être au premier rang. Comme on l'avait vue à côté de Mme Zola, tout au pied du tribunal, aux séances de la Cour d'assises, quand l'humanité nouvelle, acclamatrice des ballets russes, se pressa à l'Opéra, ornée d'aigrettes inconnues, toujours on vit dans une première loge Mme Verdurin à côté de la princesse Yourbeletief. Et comme après les émotions du Palais de Justice on avait été le soir chez Mme Verdurin voir de près Picquart ou Labori, et surtout apprendre les dernières nouvelles, savoir ce qu'on pouvait espérer de Zurlinden, de Loubet, du colonel Jouaust, du Règlement, de même, peu disposé à aller se coucher après l'enthousiasme déchaîné par Shéhérazade ou les danses du prince Igor, on allait chez Mme Verdurin, où, présidés par la princesse Yourbeletief et par la Patronne, des soupers exquis réunissaient, chaque soir, les danseurs, qui n'avaient pas dîné pour être plus bondissants, leur directeur, leurs décorateurs, les grands compositeurs Igor Stravinski et Richard Strauss, petit noyau immuable, autour duquel, comme aux soupers de M. et Mme Helvétius, les plus grandes dames de Paris et les Altesses étrangères ne dédaignèrent pas de se mêler. Même ceux des gens du monde qui faisaient profession d'avoir du goût et faisaient entre les ballets russes des distinctions oiseuses, trouvant la mise en scène des Sylphides quelque chose de plus « fin » que celle de Shéhérazade, qu'ils n'étaient pas loin de faire relever de l'art nègre, étaient enchantés de voir de près les grands rénovateurs du goût du théâtre, qui, dans un art peut-être un peu plus factice que la peinture, firent une révolution aussi profonde que l'impressionnisme. La prisonnière
As a leitmotiv, an image that followed me, Mme Verdurin in a stage box for Diaghilev's Russians Ballets. To give more precision to my vision, I watched the other night on the Arte channel, a ballet with Debussy's music The Afternoon of a Faun, choregraphed by Nijinsky, decors by Léon Bakst. I missed just wearing an aigrette.
At Mme. Verdurin's the cast was trained to perfection, the repertory most select, all that was lacking was an audience. And now that the public taste had begun to turn from the rational and French art of a Bergotte, and to go in, above all things, for exotic forms of music, Mme. Verdurin, a sort of official representative in Paris of all foreign artists, was not long in making her appearance, by the side of the exquisite Princess Yourbeletief, an aged Fairy Godmother, grim but all-powerful, to the Russian dancers. This charming invasion, against whose seductions only the stupidest of critics protested, infected Paris, as we know, with a fever of curiosity less burning, more purely aesthetic, but quite as intense perhaps as that aroused by the Dreyfus case. There again Mme. Verdurin, but with a very different result socially, was to take her place in the front row. Just as she had been seen by the side of Mme. Zola, immediately under the bench, during the trial in the Assize Court, so when the new generation of humanity, in their enthusiasm for the Russian ballet, thronged to the Opera, crowned with the latest novelty in aigrettes, they invariably saw in a stage box Mme. Verdurin by the side of Princess Yourbeletief. And just as, after the emotions of the law courts, people used to go in the evening to Mme. Verdurin's, to meet Picquart or Labori in the flesh and what was more to hear the latest news of the Case, to learn what hopes might be placed in Zurlinden, Loubet, Colonel Jouaust, the Regulations, so now, little inclined for sleep after the enthusiasm aroused by the Scheherazadeor Prince Igor, they repaired to Mme. Verdurin's, where under the auspices of Princess Yourbeletief and their hostess an exquisite supper brought together every night the dancers themselves, who had abstained from dinner so as to be more resilient, their director, their designers, the great composers Igor Stravinski and Richard Strauss, a permanent little nucleus, around which, as round the supper-table of M. and Mme. Helvétius, the greatest ladies in Paris and foreign royalties were not too proud to gather. Even those people in society who professed to be endowed with taste and drew unnecessary distinctions between the various Russian ballets, regarding the setting of the Sylphides as somehow 'purer' than that of Scheherazade, which they were almost prepared to attribute to Negro inspiration, were enchanted to meet face to face the great revivers of theatrical taste, who in an art that is perhaps a little more artificial than that of the easel had created a revolution as profound as Impressionism itself. The Captive