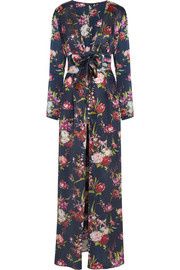 Pour le moindre séjour à l'hôpital, on vous demande d'apporter quelques effets personnels, et le remplacement d'une hanche décatie exige les mêmes accessoires de voyage que l'ablation de votre poumon droit. J'ai donc dû me munir d'un peignoir: le seul que je possédais, un mélange de tissu éponge bleu pâle, servant de garniture (col, revers, ceinture...) et d'un tissu léger d'origine non identifiée, à grandes fleurs qui feraient l'affaire sur du papier peint, voilà ce que j'avais mis dans ma valise. Heureusement je n'eus pas à m'en vêtir, étant sortie presqu'avant d'être admise dans l'établissement. Et ce matin, alors que j'enfilai cette relique je me mis à penser aux belles robes de chambre d'Odette.
Une seconde visite qu'il lui fit eut plus d'importance peut-être. En se rendant chez elle ce jour-là comme chaque fois qu'il devait la voir, d'avance il se la représentait ; et la nécessité où il était pour trouver jolie sa figure de limiter aux seules pommettes roses et fraîches, les joues qu'elle avait si souvent jaunes, languissantes, parfois piquées de petits points rouges, l'affligeait comme une preuve que l'idéal est inaccessible et le bonheur médiocre. Il lui apportait une gravure qu'elle désirait voir. Elle était un peu souffrante ; elle le reçut en peignoir de crêpe de Chine mauve, ramenant sur sa poitrine, comme un manteau, une étoffe richement brodée. Debout à côté de lui, laissant couler le long de ses joues ses cheveux qu'elle avait dénoués, fléchissant une jambe dans une attitude légèrement dansante pour pouvoir se pencher sans fatigue vers la gravure qu'elle regardait, en inclinant la tête, de ses grands yeux, si fatigués et maussades quand elle ne s'animait pas, elle frappa Swann par sa ressemblance avec cette figure de Zéphora, la fille de Jéthro, qu'on voit dans une fresque de la chapelle Sixtine. Du côté de chez Swann
When you have to spend any time in an hospital, you are asked to bring some personal belongings, and a hip replacement demands as many travel accessories as your right lung's removal. So, I had to take with me the only bathrobe I own, a mix of pale blue terrycloth (for the collar, lapel, belt...) and a light material of unspecified origin, adorned with large flowers that could serve as a pattern for old fashion wallpaper. That was all in my suitcase, and fortunately I didn't have to take it out, being discharged almost as quickly as I was admitted. And this morning, as I was putting this relic on, I thought of Odette's many gorgeous robes.
More important, perhaps, was a second visit which he paid her, a little later. On his way to the house, as always when he knew that they were to meet, he formed a picture of her in his mind; and the necessity, if he was to find any beauty in her face, of fixing his eyes on the fresh and rosy protuberance of her cheekbones, and of shutting out all the rest of those cheeks which were so often languorous and sallow, except when they were punctuated with little fiery spots, plunged him in acute depression, as proving that one's ideal is always unattainable, and one's actual happiness mediocre. He was taking her an engraving which she had asked to see. She was not very well; she received him, wearing a wrapper of mauve crêpe de Chine, which draped her bosom, like a mantle, with a richly embroidered web. As she stood there beside him, brushing his cheek with the loosened tresses of her hair, bending one knee in what was almost a dancer's pose, so that she could lean without tiring herself over the picture, at which she was gazing, with bended head, out of those great eyes, which seemed so weary and so sullen when there was nothing to animate her, Swann was struck by her resemblance to the figure of Zipporah, Jethro's Daughter, which is to be seen in one of the Sixtine frescoes.Swann's Way