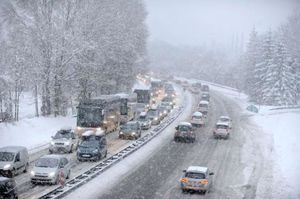 Dominique Drouin, un proustien hors classe, me suggère de commenter l'actualité enneigée, par une extrait très approprié, il démontre ainsi ce que c'est qu'être proustien: trouver tous les jours, ou du moins très souvent, un lien entre notre vie et la recherche.
– Oh ! à ce point de vue, Votre Altesse Royale peut se rassurer, interrompit la dame d'honneur d'un air fin, il ne reneigera pas.
– Qu'en savez-vous, madame ? demanda aigrement l'excellente princesse de Parme, que seule réussissait à agacer la bêtise de sa dame d'honneur.
– Je peux l'affirmer à Votre Altesse Royale, il ne peut pas reneiger, c'est matériellement impossible.
– Mais pourquoi ?
– Il ne peut plus neiger, on a fait le nécessaire pour cela : on a jeté du sel !
Le côté de Guermantes
It has been snowing a lot this week-end in the east of France, and a real Proustian, Dominique Drouin, has sent me a text that was inspired by the news, demonstrating once again that Proustians are used to make daily or at least very frequent connections between their lives and the Search.
"Oh! If it comes to that, your Royal Highness can be reassured," broke in the lady in waiting with a knowing air, "it will not snow again." "What do you know about it, Madame?" came witheringly from the excellent Princesse de Parme, who alone could succeed in piercing the thick skin of her lady in waiting. "I can assure your Royal Highness, it cannot snow again. It is a physical impossibility." "But why?" "It cannot snow any more, they have taken the necessary steps to prevent it, they have put down salt in the streets!" The Guermantes Way