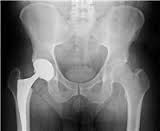 Ma hanche pourrie me force à sentir le temps passer. La douleur a cet avantage, c'est de ralentir le temps; désirer qu'il file le plus vite possible. De profiter de toute son élasticité (je parle du temps, pas de ma hanche). Ces trois derniers mois se traînent de plus en plus. Je devrais en être ravie, mais je me prends à regretter le bon vieux temps qu'on ne sent pas passer et dont il ne reste rien, que parfois un éclair, allumé par une madeleine.
Et encore, même à ce point de vue de simple quantité, dans notre vie les jours ne sont pas égaux. Pour parcourir les jours, les natures un peu nerveuses, comme était la mienne, disposent, comme les voitures automobiles, de « vitesses » différentes. Il y a des jours montueux et malaisés qu'on met un temps infini à gravir et des jours en pente qui se laissent descendre à fond de train en chantant. Du côté de chez Swann
My rotten hip forces me to feel time going by. Pain has this benefit, it is to slow down time; strongly wish that it goes faster. Take advantage of its elasticity (I am referring to time, not my hip). These last three months are dragging. I should be pleased, but I find myself regretting the good old days that you don't feel rushing and that leaves nothing, but sometimes a lightning, lit by a madeleine.
And besides, even from the point of view of mere quantity, in our life the days are not all equal. To reach the end of a day, natures that are slightly nervous, as mine was, make use, like motor-cars, of different 'speeds.' There are mountainous, uncomfortable days, up which one takes an infinite time to pass, and days downward sloping, through which one can go at full tilt, singing as one goes. Swann's Way