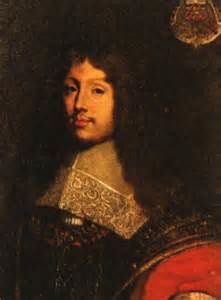 Hier Jules m'a lu à voix haute la biographie de La Rochefoucauld, en introduction des célèbres Maximes (une de mes favorites: "Nous avons tous assez de force pour supporter les maux d'autrui"). Sa vie de courtisan comploteur batailleur et homme de lettres m'a fait penser à toute la fascination du narrateur pour tout ce qui est généalogie nobiliaire, et ses implications au niveau protocolaire (désir d'un tabouret à la table de la reine...). Avant d'hériter du titre de duc de la Rochefoucauld à la mort de son père, il était appelé prince de Marcillac.
Mme Verdurin demanda à l'oreille de son mari : « Est-ce que je donne le bras au baron de Charlus ? Comme tu auras à ta droite Mme de Cambremer, on aurait pu croiser les politesses. – Non, dit M. Verdurin, puisque l'autre est plus élevé en grade (voulant dire que M. de Cambremer était marquis, M. de Charlus est en somme son inférieur. – Eh bien, je le mettrai à côté de la princesse. » [...) – Qu'alliez-vous me dire ? » interrompit M. de Charlus, qui commençait à être rassuré sur ce que voulait signifier M. Verdurin, mais qui préférait qu'il criât moins haut ces paroles à double sens. « Nous vous avons mis seulement à gauche », répondit M. Verdurin. M. de Charlus, avec un sourire compréhensif, bonhomme et insolent, répondit : « Mais voyons ! Cela n'a aucune importance, ici ! » Et il eut un petit rire qui lui était spécial – un rire qui lui venait probablement de quelque grand'mère bavaroise ou lorraine, qui le tenait elle-même, tout identique, d'une aïeule, de sorte qu'il sonnait ainsi, inchangé, depuis pas mal de siècles, dans de vieilles petites cours de l'Europe, et qu'on goûtait sa qualité précieuse comme celle de certains instruments anciens devenus rarissimes. Il y a des moments où, pour peindre complètement quelqu'un, il faudrait que l'imitation phonétique se joignît à la description, et celle du personnage que faisait M. de Charlus risque d'être incomplète par le manque de ce petit rire si fin, si léger, comme certaines oeuvres de Bach ne sont jamais rendues exactement parce que les orchestres manquent de ces « petites trompettes » au son si particulier, pour lesquelles l'auteur a écrit telle ou telle partie. « Mais, expliqua M. Verdurin, blessé, c'est à dessein. Je n'attache aucune importance aux titres de noblesse, ajouta-t-il, avec ce sourire dédaigneux que j'ai vu tant de personnes que j'ai connues, à l'encontre de ma grand'mère et de ma mère, avoir pour toutes les choses qu'elles ne possèdent pas, devant ceux qui ainsi, pensent-ils, ne pourront pas se faire, à l'aide d'elles, une supériorité sur eux. Mais enfin puisqu'il y avait justement M. de Cambremer et qu'il est marquis, comme vous n'êtes que baron... – Permettez, répondit M. de Charlus, avec un air de hauteur, à M. Verdurin étonné, je suis aussi duc de Brabant, damoiseau de Montargis, prince d'Oléron, de Carency, de Viazeggio et des Dunes. D'ailleurs, cela ne fait absolument rien. Ne vous tourmentez pas, ajouta-t-il en reprenant son fin sourire, qui s'épanouit sur ces derniers mots : J'ai tout de suite vu que vous n'aviez pas l'habitude. Sodome et Gomorrhe
Yesterday Jules read aloud the biography of La Rochefoucauld, in introduction to his famous Maximes. His busy life at Louis XIII and then LouisXIV court, his plots, revolts, battles and as a man of letters made me think of the narrator's fascination for noble genealogy and its protocolar implications . Before becoming Duc de la Rochefoucauld at his father's death, he was called prince de Marcillac.
Mme. Verdurin whispered in her husband's ear: "Shall I offer my arm to the Baron de Charlus? As you will have Mme. de Cambremer on your right, we might divide the honours." "No," said M. Verdurin, "since the other is higher in rank" (meaning that M. de Cambremer was a Marquis), "M. de Charlus is, strictly speaking, his inferior." "Very well, I shall put him beside the Princess." [...) "What were you going to tell me?" interrupted M. de Charlus, who was beginning to feel reassured as to M. Verdurin's meaning, but preferred that he should not utter these misleading remarks quite so loud. "Only that we put you on the left," replied M. Verdurin. M. de Charlus, with a comprehending, genial, insolent smile, replied: "Why! That is not of the slightest importance,here!" And he gave a little laugh that was all his own — a laugh that came to him probably from some Bavarian or Lorraine grandmother, who herself had inherited it, in identical form, from an ancestress, so that it had been sounding now, without change, for not a few centuries in little old-fashioned European courts, and one could relish its precious quality like that of certain old musical instruments that have now grown rare. There are times when, to paint a complete portrait of some one, we should have to add a phonetic imitation to our verbal description, and our portrait of the figure that M. de Charlus presented is liable to remain incomplete in the absence of that little laugh, so delicate, so light, just as certain compositions are never accurately rendered because our orchestras lack those 'small trumpets,' with a sound so entirely their own, for which the composer wrote this or that part. "But," M. Verdurin explained, stung by his laugh, "we did it on purpose. I attach no importance whatever to title of nobility," he went on, with that contemptuous smile which I have seen so many people whom I have known, unlike my grandmother and my mother, assume when they spoke of anything that they did not possess, before others who thus, they supposed, would be prevented from using that particular advantage to crow over them. "But, don't you see, since we happened to have M. de Cambremer here, and he is a Marquis, while you are only a Baron. . . . " "Pardon me," M. de Charlus replied with an arrogant air to the astonished Verdurin, "I am also Duc de Brabant, Damoiseau de Montargis, Prince d'Oloron, de Carency, de Viareggio and des Dunes. However, it is not of the slightest importance. Please do not distress yourself," he concluded, resuming his subtle smile which spread itself over these final words: "I could see at a glance that you were not accustomed to society." Cities on the Plain