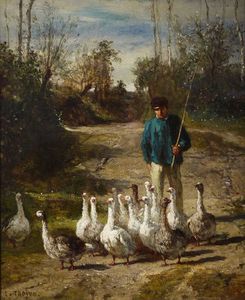 Jules me mène à la baguette (tableau de Troyon)
Je vais sortir un nouveau livre en septembre, aux Editions de la Spirale, "Les douze dîners de Marcel Proust", et malgré les mauvais calculs, les déceptions, les difficultés et bonnes surprises de tous ordres qui ont accompagné la sortie de "Les sept leçons de Marcel Proust", je reste optimiste, car j'ai appris de mes erreurs, et je suis soutenue par nombre d'amis, en particulier par Jahida, mais aussi par Jules, qui, travailleur acharné, est prêt à me donner des coups de badine pour me faire avancer. Et si Hollande a une chance de réussir à changer la France, envers et contre tout, moi je peux bien faire réussir la Spirale!
Tant il est peu de réussites faciles, et d'échecs définitifs. Le Temps retrouvé
In September I'll publish a new book "Les douze dîners de Marcel Proust" at Les Editions de la Spirale. I have kept my optimism in spite of problems, for "The Seven Lessons of Marcel Proust" of distribution, miscalculations, disappointments of all kinds. I have learned from my mistakes and, with the support of friends like Jahida, but also of Jules, a worhalcoholic who is ready to whip me to make me go. I have the same optimism as François Hollande. If he succeeds in transforming France, I may succeed in developing La Spirale!
So rarely do we meet either with easy success or with irreversible defeat. Time Regained