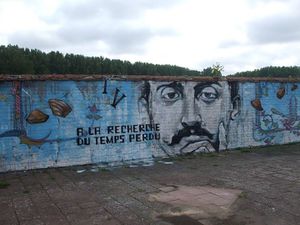 Une rue de Damme, en Belgique trouvée grâce à une amie de FaceBook
J'étais au Havre avec Jules pour voir une exposition des oeuvres de Nicolas de Staël, une exposition magnifique pour un grand peintre qui a su trouver avec sa palette l'essence des choses. Trouver l'essence des choses est devenu mon grand dessein, j'y pense le jour, je me réveille la nuit pour y penser (ou parce que j'ai mal à mes articulations). Je lis et relis Proust et les signes, de Gilles Deleuze, je fourrage dans la Recherche.... l'entreprise est exaltante. Et je trouve des représentations (souvent dans FaceBook) qui, elles, cherchent l'essence de Marcel Proust.
On peut faire se succéder indéfiniment dans une description les objets qui figuraient dans le lieu décrit, la vérité ne commencera qu'au moment où l'écrivain prendra deux objets différents, posera leur rapport, analogue dans le monde de l'art à celui qu'est le rapport unique de la loi causale dans le monde de la science, et les enfermera dans les anneaux nécessaires d'un beau style, ou même, ainsi que la vie, quand, en rapprochant une qualité commune à deux sensations, il dégagera leur essence en les réunissant l'une et l'autre, pour les soustraire aux contingences du temps, dans une métaphore, et les enchaînera par le lien indescriptible d'une alliance de mots. La nature elle-même, à ce point de vue, ne m'avait-elle pas mis sur la voie de l'art, n'était-elle pas commencement d'art, elle qui souvent ne m'avait permis de connaître la beauté d'une chose que longtemps après, dans une autre, midi à Combray que dans le bruit de ses cloches, les matinées de Doncières que dans les hoquets de notre calorifère à eau ? Le rapport peut être peu intéressant, les objets médiocres, le style mauvais, mais tant qu'il n'y a pas eu cela il n'y a rien eu. Le Temps retrouvé
I was in Le Havre with Jules for an exhibition of Nicolas de Staël, a splendid display for a painter who had reached to the essence of things, with just some touches of paint. To find the essence of things has become my great project, I think of it days and nights (awaken by my joints pain). I read and re-read Gilles Deleuze' Proust et les signes, and rummage in In Search of Lost Time... the enterprise is thrilling. And I even find representations that look for Marcel Proust' essence.
In describing objects one can make those which figure in a particular place succeed each other indefinitely; the truth will only begin to emerge from the moment that the writer takes two different objects, posits their relationship, the analogue in the world of art to the only relationship of causal law in the world of science, and encloses it within the circle of fine style. In this, as in life, he fuses a quality common to two sensations, extracts their essence and in order to withdraw them from the contingencies of time, unites them in a metaphor, thus chaining them together with the indefinable bond of a verbal alliance. Was not nature herself from this point of view, on the track of art, was she not the beginning of art, she who often only permitted me to realise the beauty of an object long afterwards in another, mid-day at Combray only through the sound of its bells, mornings at Doncières only through the groans of our heating apparatus. Time Regained