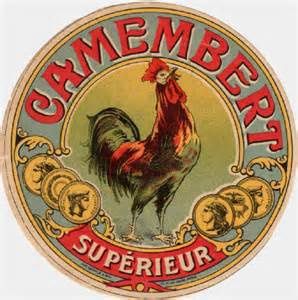 Dans le métro, de retour du labo, ligne 10 Pont de Saint Cloud-gare d'Austerlitz, une jeune femme d'allure joviale et sa fillette discutent le plan: elles se sont trompées de ligne et auraient dû changer à Odéon, au lieu de continuer vers la gare d'Australie! Comme je relatais le fait à Corinne au bureau, elle m'indiqua que plusieurs fois elle avait corrigé un voisin ami qui disait aréoport au lieu d'aéroport; ce qui me rappela à mon tour W qui disait (et ça me faisait tordre de rire à chaque fois "nucular" pour "nuclear": apparemment il ne pouvait faire autrement, n'empêche c'était très drôle). Moi-même j'ai été humiliée par une ex-amie, pour avoir dit et répéter arborigène au lieu d'aborigène.
Le lift me jura, avec la sincérité de la plupart des faux témoins, mais sans quitter son air désespéré, que c'était bien sous le nom de Camembert que la marquise lui avait demandé de l'annoncer. Et, à vrai dire, il était bien naturel qu'il eût entendu un nom qu'il connaissait déjà. Puis, ayant sur la noblesse et la nature des noms avec lesquels se font les titres les notions fort vagues qui sont celles de beaucoup de gens qui ne sont pas liftiers, le nom de Camembert lui avait paru d'autant plus vraisemblable que, ce fromage étant universellement connu, il ne fallait point s'étonner qu'on eût tiré un marquisat d'une renommée aussi glorieuse, à moins que ce ne fût celle du marquisat qui eût donné sa célébrité au fromage. Néanmoins, comme il voyait que je ne voulais pas avoir l'air de m'être trompé et qu'il savait que les maîtres aiment à voir obéis leurs caprices les plus futiles et acceptés leurs mensonges les plus évidents, il me promit, en bon domestique, de dire désormais Cambremer. Sodome et Gomorrhe
In the subway, going home from my office, line 10 Pont de Saint Cloud-gare d'Austerlitz, a jovial looking woman and her young daughter discuss the metro map: they had made a mistake and were on the wrong line towards the gare d'AUSTRALIE! As I was relating the incident to Corinne the following day, she confessed that she had tried unsuccessfully to correct a friend who says areoport for aeroport, as W used to say (apparently it was not his fault) nucular for nuclear, a word that was making me really laugh. Myself I had also been humiliated by a former friend for saying arboriginal for aboriginal.
The lift-boy swore to me with the sincerity of most false witnesses, but without shedding his expression of despair, that it was indeed by the name of Camembert that the Marquise had told him to announce her. And as a matter of fact it was quite natural that he should have heard her say a name which he already knew. Besides, having those very vague ideas of nobility, and of the names of which titles are composed, which are shared by many people who are not lift-boys, the name Camembert had seemed to him all the more probable inasmuch as, that cheese being universally known, it was not in the least surprising that people should have acquired a marquisate from so glorious a distinction, unless it were the marquisate that had bestowed its renown upon the cheese. Nevertheless as he saw that I refused to admit that I might be mistaken, and as he knew that masters like to see their most futile whims obeyed and their most obvious lies accepted, he promised me like a good servant that in future he would say Cambremer. Cities on the Plain