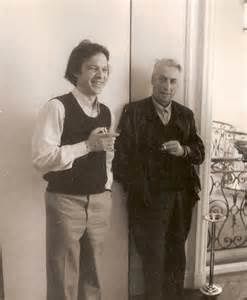 Avec son directeur de thèse, Roland Barthes, Paris, 1978
Dans cette courte interview, Gaëtan Brulotte (il faut que je récupère une autre partie, plus longue), nous engage à sortir changés par la lecture de Proust, qui nous emmène vers nous-mêmes: GO FOR IT!
En réalité, chaque lecteur est, quand il lit, le propre lecteur de soi-même. L'ouvrage de l'écrivain n'est qu'une espèce d'instrument optique qu'il offre au lecteur afin de lui permettre de discerner ce que, sans ce livre, il n'eût peut-être pas vu en soi-même. La reconnaissance en soi-même, par le lecteur, de ce que dit le livre est la preuve de la vérité de celui-ci, et vice versa, au moins dans une certaine mesure, la différence entre les deux textes pouvant être souvent imputée non à l'auteur mais au lecteur. Le Temps retrouvé
In this interview, Gaëtan Brulotte engages us to be transformed by the reading of Proust, who leads us to ourselves. GO FOR IT!
In reality, every reader, as he reads, is the reader of himself. The work of the writer is only a sort of optic instrument which he offers to the reader so that he may discern in the book what he would probably not have seen in himself. The recognition of himself in the book by the reader is the proof of its truth and vice-versa, at least in a certain measure, the difference between the two texts being often less attributable to the author than to the reader. Time Regained